Small Town Southern Man
Today my blog is titled this because of a very special person who was in both mine and my family's life every since I was a little over a year old. The man I am going to talk about today has passed away and gone on to be with the Lord now, but we will take this blog post to remember a great man of God who was dedicated and committed.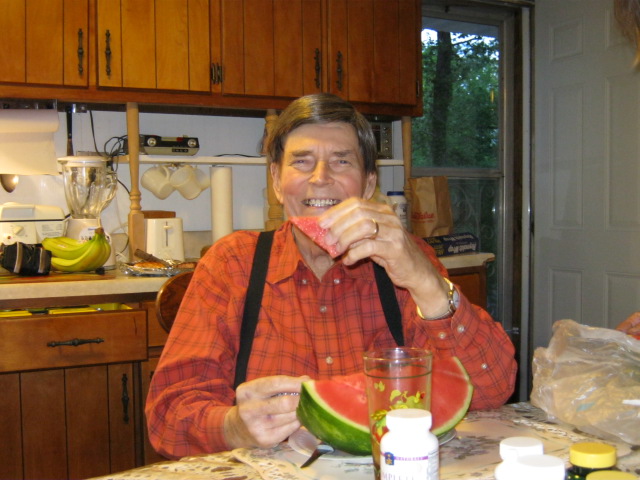 I grew up with him around because I was not even two years old when my grandparents came into his life. My memory on certain things can't recall all that well. I can remember them when mentioned but to have to bring up on my own I probably couldn't. So what I am going to do is write a little bit about him and the type of person I remember him being and then I've asked my mom to write a little bit more about him. He was a genuine, true, small town southern man who bowed his head to Jesus and stood for what was right. He did believe that your greatest contribution is the one you leave behind.
His name is Brother Thurman Ward.
He'd be up all hours of the night and wee hours of the morning praying for people and he served God with all his might. Just recently, his wife and his daughter sent me some clothes. My mom had already given me his ties that his wife had given her but they sent me his dress shirt and his penny loafers. They came just in time for me to wear to church that following Sunday, yesterday. I went to two churches yesterday. It reminded me of something Brother Ward would do.
I went to a Southern Baptist church with my mom at 10am and then at 2pm we went to the Pentecostal church we've been going to for a couple times and not only did my Pastor's clothes arrive in time for me to wear in the Sunday service but I also got to teach Sunday school in his dress shirt, tie and dress shoes as well! It was quite exciting for me and throughout the whole event I couldn't help but think of him, especially with this being the scripture verse I chose to be the memory verse for everyone in class to memorize.
"And whatsoever ye do, do it heartily as to the Lord and not unto men;"- Colossians 3:23 K.J.V.
That whatever we do we should do this heartily as to the Lord and not unto men! Amen! And I was reminded of how Bro. Ward did everything with all of his might to God, the best that he could. He walked the best and purest example of Christ he could in those penny loafers I was wearing today. It was a great experience talking to the children in Sunday school, and I know God loves each and everyone of them. I hope to see them all soon this coming Sunday!!!
My Mom's Memories
I can't say enough good things about Brother Ward. It would take a few books to cover what I learned from Brother Ward over the years. But to make a very long story short enough to fit in this post: Nathan was just a baby in diapers when God brought the Wards in to our lives. I remember the little country church and the first service we attended. Brother Ward was baptizing people in the creek down a gravel road after church.
Over the years, they became more than our Pastors, they were grandparents and friends – they became family. And I had the privilege of living on their property in a camper until Brother Ward passed away.
Many of you have heard Nathan talk about the pain it caused when I left. But you know, God turns all things to the good to those who love the Lord – and my family and I truly have always loved the Lord. My experience of being around Brother Ward up until his last days was such an honor. And although I was separated from my family and it was a very painful time in that sense, God used Brother and Sister Ward to guard and guide me, protect and pray with me and for me, to teach me and train me. They took me in to their home and fed me – both spiritually and physically – and loved me as if I were their own daughter. I will never forget it. Never.
I took the picture you see of Brother Ward eating watermelon. That was such a happy day. Brother Ward truly counted it a blessing, honor, and joy to serve God. He was never too tired or busy or in too much of a hurry to slow down and spend hours even witnessing for God. He lived and breathed to serve God and others.
There were countless times that I enjoyed house church with Brother and Sister Ward. One or both of them would preach and sing and we would have old-fashioned, Holy Ghost-filled prayer time on our knees right in their living room.
I'll never, ever forget Brother Ward. His sacrifices were great. He was the watchman on the wall, always sacrificing sleep so he could pray for others. He was a man who fasted much – more than anyone I've ever known. His dedication was like no other I've ever met. His smile was infectious. He was a rare, priceless soldier in God's army.
Brother Ward's wife, Sister Pat Ward, and his daughter, Trisha Byrd, (thank you, beautiful ladies!) recently sent Nathan some of Brother Ward's clothes and shoes. When I saw Nathan in Brother Ward's clothes, it brought me to tears. Not only has God healed and restored my family – but here is Brother Ward's clothes. He's not here anymore but just look, he still has a part in helping my family. Isn't that amazing?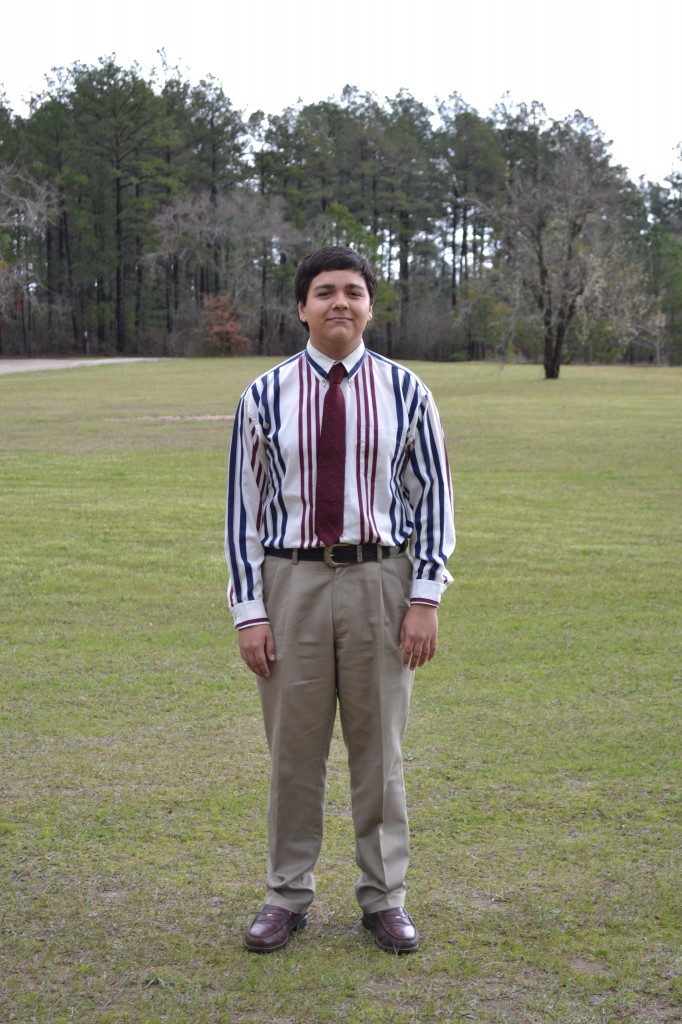 And there's Nathan, all grown up. (I am so very proud of you, Nathan – and Brother Ward would be, too!!!) I told him those shoes he's wearing are mighty big shoes to fill – oh, but Brother Ward trained him well (and so have my parents). As I write this, I know Brother Ward is smiling from Heaven if he can see us. I know he's overjoyed that  I am back with my family and I know we'll see him again some day.
If only we can have even a smidgen as much dedication to God as he always did…
Back to Nathan
Even up until the day Brother Ward died, he was doing all he could heartily as to the Lord and not unto men. He was always proud of whatever it was that he had (and had a willingness to share it) and had a great desire in his heart to be a witness for others.
Alan Jackson _Small Town Southern Man_ Cover – Nathan Tune
I hope you enjoy the cover of my song about a "Small Town Southern Man". This song was brought to my mind yesterday morning and I thought instantly of Brother Ward. I hope it will help you in some way.
God Bless y'all!
Sincerely,