LOVE!
Happy Valentines day, everyone! You know, I'm gonna speak of a different kind of love today – the kind of love that Jesus gave us to follow as an example. The bible says that we should: "LOVE ONE ANOTHER".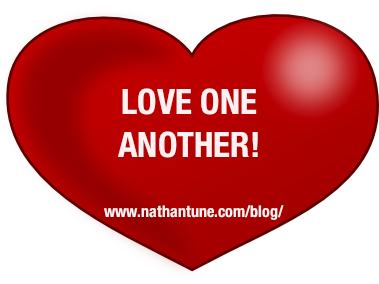 Interesting, isn't it? Actually, he COMMANDS that we love one another. If any man have love than they are of God because God is of LOVE. Now let us not forget that God is also a mighty strong and jealous God. We seem to forget sometimes that he also disciplines his children when he sees fit. You make a sin, you will be punished for those actions in some way. God doesn't tolerate much. Though you are forgiven and he does love you, there are still consequences for your actions.
Everyone needs somebody to love them. I guess the heartbroken, hurt people going through pain have been on my heart lately. I guess God is trying to tell me that they need us. Maybe he is telling someone reading my blog posts that someone needs you. They need you to show them love, kindness, and care.
What is loving?
Loving is being there for someone in there darkest hour, sticking with them and helping them get through this troubled time. I believe that God needs us all to let our shine and when you let your light shine, you're not only sharing hope in everyone, you're also showing  and spreading love – that which is of your own and that which is of God.
"Beloved, let us love one another: for love is of God; and every one that loveth is born of God, and knoweth God."- 1 John 4:7 K.J.V.
Many times we get distracted with the things in the world, which the scripture warns us of this. The bible also says that we need not love the things in the world or of the world for any man that loves the world then the love of the Father is not in him (which is true to some extent).
Yesterday, I talked about people with kindness dying off and pretty much going extinct. Well, when you lose kindness then you will most likely lose those who loves, because to have one of these traits is to also have the other.
It is just as important to love others in this dark world as it is to let our light shine because there again, to do one is also to do the other. Without one, you are defeating the purpose of the other. Your light can't be a beacon if your light don't shine.
The bible also said that:
For God so loved the world, that he gave his only begotten Son, that whosoever believeth in him should not perish, but have everlasting life. – John 3:16
You know the verse, people. The bible also that God loved us before we first loved him, before we were ever even spoke into existence. I'm sure you've got many loved ones around that love you dearly, so why not share some of that love with another person who's hearbroken and in need of a friend.
"Love your brother. Love your sister. Love the broken too."– James Fickle
So go out today with your mind set to spread the love. Come on now, there is plenty of it to give. Let your shine and be a beacon to this dark world.
Share hope in everyone, love, and share GOD'S LOVE!
God bless y'all!
Sincerely,