It's Monday: Let Your Light Shine
Good day to all who read my blog post! It's MONDAY; that means the weekend is over. Time for the working men and women to go back to work and for their kids to go back to school.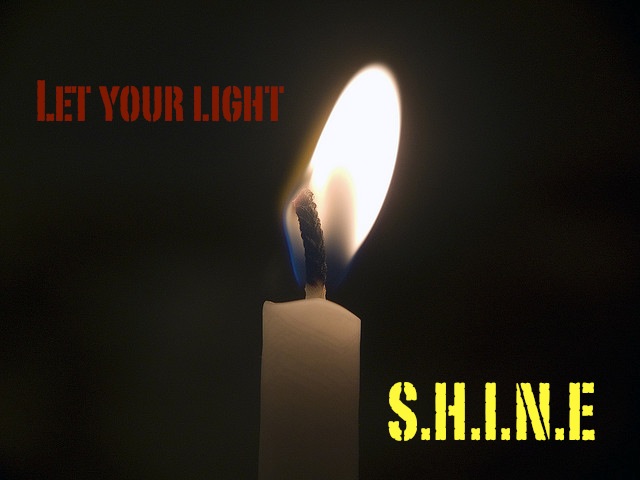 In other words for the majority of society, it's time for them to go back out and face the world – a world which is full of darkness, that is.
Now I know that pretty much EVERYBODY hates Monday – and almost every kid hates school.
But how about we go back  and take a look at the past posts I have written about:
Looking Beyond What You See, World Of Darkness, or the one I wrote about Hakuna Matata?
If you missed those you can check them out later – but for now let's bring up some of what I talked about. Take Looking Beyond What You See, for instance. You could get up today and say (as an example) it's raining, cold, windy and miserable today. Or you could get up and say – "Oh It's raining outside, but the lord has made this day so I will be glad and rejoice in it. It is a bit cold, I'm thankful for my heat and warm clothes the good Lord has blessed me with, the wind is incredibly strong today but at-least I have a nice coat to keep me from freezing." Wow that was a big difference when you LOOK BEYOND WHAT YOU SEE. I love that quote; it's truly something we should all do more of.
Now I know life can be hard from time to time but as they say, "that is life – disappointing, sad, dreadful, cruel, heartbreaking, miserable – and full of pain."  Again, let's put to use looking beyond what we see. With life there is also much, joy, happiness, strength, love, serenity, peace and kindness. Amazing what looking at the bright side of things can do, isn't it? But it's still hard to do that from time to time right? Yet, whether we want to accept it or not, the bright side of things are still there – even if we can't see them. Which brings me to my next explanation from one of my past blog posts.
"Let your light S.H.I.N.E. (Share, Hope, In, Everyone.)" – Nathan Tune
I'm sure you noticed how that is written on the picture in this post. That is one way of letting your light S.H.I.N.E. To me anyways, with this being another Monday and with you going out into this 'World of Darkness' it is especially Important for you to let your light S.H.I.N.E as brightly as possible. And sharing hope in everyone is something we should all be doing anyhow. Because everyone needs hope, and if your light is shining then that means that this dark world might be seeing his hope. Which is what definitely needs to be known and shown in today's world daily. Where does it begin? With YOU. We are the body of  Christ so for those of you who went to church yesterday then came home and threw your bible on the table know that your not to practice his word just one day of the week but in every single of the week, and not just at church but everywhere you go because the bible says that we are the church.
"Now ye are the body of Christ, and members in particular."-1 Corinthians 12:27 K.J.V.

On to my next explanation from another one of my recent posts about "Hakuna Matata"… it means no worries, right? Well try not to worry today about anything at all if you can. I'm sure some things may be going on in your life that you just can't help but worry about, though, I ask if there is anyway possible at all that you can stop worrying then do so. Think about your blessings instead of your problems and I'm certain that the good will by far out-weigh the bad. I've said this often because it has been proven true. So much is taken for-granted by people who live in America like the fact that we have the freedom to serve God and to share his hope with other, also that we can pray in the safety of our own home. There are many other things that we as Americans don't appreciate – like food, water and much more but those are just a few small, yet to others VERY IMPORTANT.
With that said, I hope you all go out into the world saying, "I'm going to (S.H.I.N.E) Share, Hope, In, Everyone!" Sure takes a different meaning to "Rise and SHINE!" doesn't It? Being a witness for God and showing others the hope that he gives. That is something we should all work harder to do, no matter where we are, what we are doing or who we are with, treat it always as a moment to "Let Your Light S.H.I.N.E"
God bless y'all!
Sincerely,