Cry Out To JESUS!
Hello everyone! I am back today, writing on my blog again! It is getting somewhat difficult to keep up with these daily blog posts, but I am doing my best to do so! I also have to finish up my lesson for this coming Sunday class!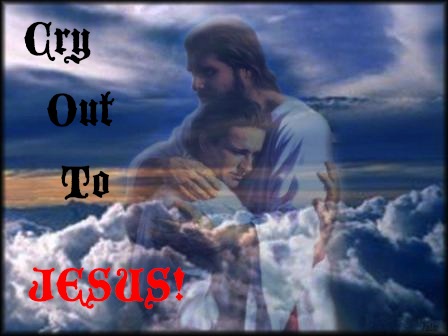 Fun, isn't it? A very small class with young kids – but precious, they are. And I know God will bless with more soon all in his timing, I'm sure! On top of that, I am getting ready to record the first message for the second season of the James Fickle Show that will be premiering on April 23rd so it is coming soon! I will be doing a weekly broadcast of that so keep your eye out for it!
If you'd like to get your two disk copy of season one check out "The James Fickle Show Page" for details on that and may God bless you through your visit there.
Why I Didn't Post Yesterday!
I know a lot of you were wondering why I didn't write a blog post to you yesterday – so here is the reason why! I was up late and praying with my best friend, though we got to make 7:00pm that night we talked most of that and then he had to go then he got back and we still talked to each other then he had to go again so he couldn't get back for awhile and then I wasn't able to pray at the time which was around 9:30pm.
I came back in the house my grandpa had just went to bed and then I decided that we couldn't miss tonight so I went outside and had him to call me and that was about 11:00 we prayed about 15 minutes each but talked 11 mins before that settling some things so I didn't get in bed until midnight! I couldn't get up early enough to write y'all something for yesterday.
I Was CRYING OUT TO JESUS!
Whoever you may be, whatever you may be going through there is no need to go through this struggle alone because all you have to do is just that. Lift your hands to Jesus; reach out and seek him to help you through these hard times. Pray that he will help you and he will. He has already gone before you and is there in your life he knows everything and everything is going according to his plan so you must just bid your time and say: "ok Lord… Have your way."
I know that is one of the hardest things for us to do because we don't like trials and tribulations. Nobody, does really! But think about this for just a moment: this trial could become a great blessing for you and though you may not see it at this time God will show it to you! You will see! He has a plan and a purpose for each of us, he knows how many hairs are on our heads so don't you think he knows what he's doing, just cry out to him and he will be there, hold his hand while he's leading you and you'll come out triumphal.
Because in Jesus there is hope for the helpless and rest for the weary! Amen and praise God, right!? And LOVE for the broken heart! He will heal your broken heart, he will nurse it back to health and he will hold it in his healing hands. There is grace and forgiveness, mercy and healing he'll meet you wherever you are!
It doesn't matter if you're alone at your work office late one night, or if you're at the gym by yourself, or in the car on the way home from work or a movie – Jesus will meet you wherever you are! He will be there with his arms stretched open wide just waiting for you to run to him for the healing you need so desperately bad.
 "Third Day _Cry Out To Jesus_ Cover – Nathan Tune"
I hope you enjoy my cover of this song by the band Third Day! I loved this song every since I first heard it and actually, I found it at a time I really needed to hear it. My mom was just on the verge of coming back to us and then that fell through so I was really discouraged and that song came into my day somehow and it really blessed me so I hope that my cover can bless you. There is HOPE for the helpless! Believe you me!
God bless y'all!
Sincerely,