Fire! Fire!
This is Nathan's mom again. He is unable to post this morning – for the same reason he shared yesterday. So I am here to share the amazing experience Nathan and I had last night. It's about…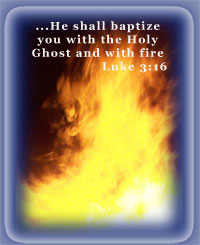 The Holy Ghost Fire!
John answered, saying unto them all, I indeed baptize you with water; but one mightier than I cometh, the latchet of whose shoes I am not worthy to unloose: he shall baptize you with the Holy Ghost and with fire: (Luke 3:16 KJV)
It feels awesome to be on fire for God, being in his will, and being out and about doing his business! Amen?!
Last night, Nathan and I visited a little church down the road from my house. Since the first time I passed it (right after I first moved to Texas), I knew there was something special about it.
A little time passed and then one day a lady came in to the post office (where I work) and we instantly felt a connection – we are both sisters in the Lord! Amen! As we talked, we took turns testifying and encouraging one another. I discovered she went to church at that very little building down the road from my house. Isn't it amazing how God works in our lives? You know how life is: I got busy and time passed by.
I was talking to my Pastor in Missouri and mentioned I had been planning on visiting this church and that. Her response was "Stop making excuses – the time is now!" Yes, she's right. The time is now, people!
And I'm SO glad I took heed to her instruction.
Yesterday morning, my son asked if I was going to visit that little church. Oh boy. I had a bad headache and my back was killing me. I am still weak from my trip to the ER over a severe sinus infection that got out of control (because I wouldn't slow down and take care of myself!) and all I could think about was getting home and just laying down and resting so I could get some strength. I let him know that I felt really bad and that I'd see how I felt later. And then I truly felt the burning desire to go to that church – so I told that headache and backache they'd just have to move over and get out of my way! 😉
When I got off of work, I had the strength to clean my wood floors, wash my dishes, do laundry, clean and organize – and more!
And when it was church time, my son and I were there.
Shut Up In My Bones!
Have you ever heard that old song: "It's like fire shut up in my bones"?
Oh, are we ever glad we visited this little church! We spent time on our knees at an old-fashioned altar. We spent time testifying and enjoying others' testimonies. We enjoyed the anointed singing, music, and preaching – oh my! The Pastor taught an amazing Bible study. He read THREE entire chapters – and it was lively and anointed!
The people there made us feel so welcome. What a blessing!
I haven't felt the Holy Ghost fire that strong in a church in years. God is SO good!
He is still alive and well, people! His Holy Ghost is still burning and moving and is there for the taking.
I thank God for bringing me to Texas, for bringing that sister in the Lord to the post office, for impressing us to visit that church last night, and for Nathan being so on fire for God. He is so dedicated and spends so much time reading the word and praying, encouraging, ministering, singing – and so much more.
And he is fixing to walk through Holy Ghost-filled, anointed, God-chosen doors.
Get ready, folks – the best is yet to come!!!
Have you been on your knees lately crying out to Jesus? If not, today is a great day to start!