Posting Postmaster MOM!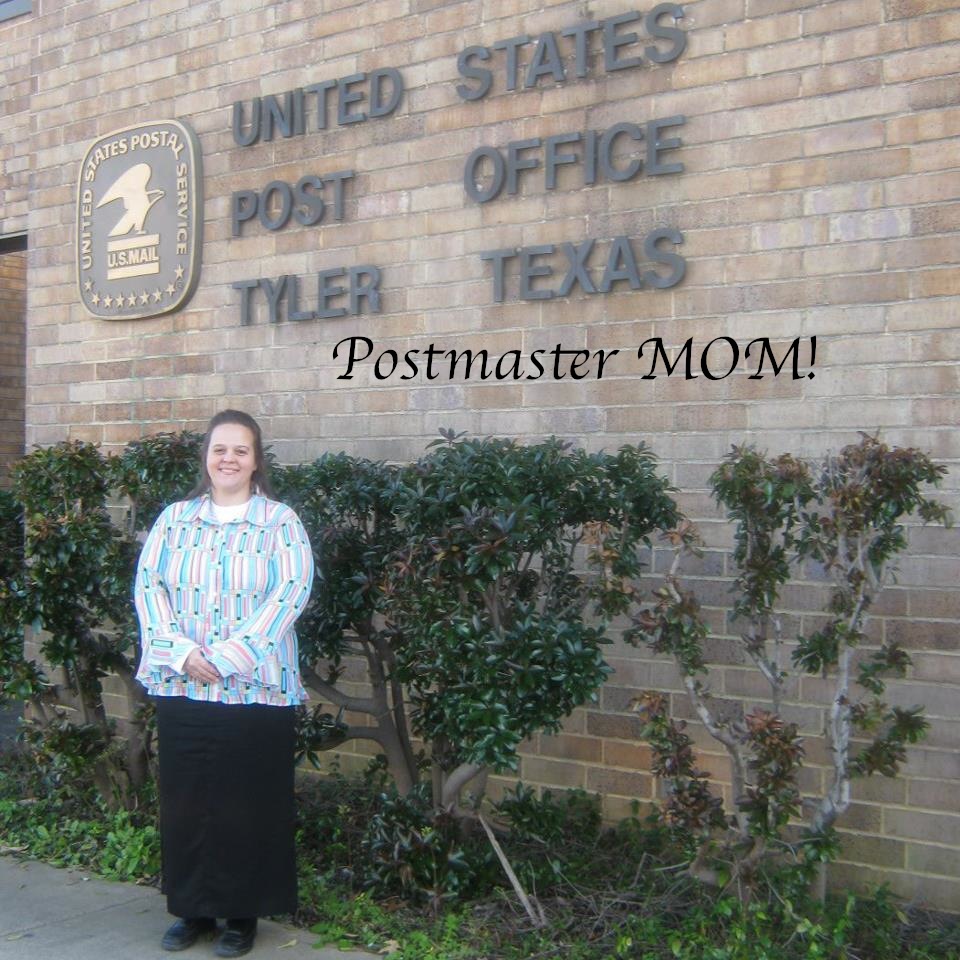 My post today is about my mom – the POSTMASTER!
That is right! I really can't believe it either… Talk about being blessed. It is quite amazing how she happened upon the job here at our local post office. The photo to the left, though, is my mom standing in front of the Tyler post office, where she went to have training.
It sure is something, a blessing straight from the heavens! It is funny how I can't seem to say anything at all without telling of my faith and the many blessings that God has bestowed upon me and my family.
Well, along with mentioning my mom being the Postmaster, I would also like to mention my feelings about all this and the journey it took her to get to where she is today. I am amazed really; it is something how God has moved in the situation. I've talked often about how it's still been a lot for me to take in and it really is.
I'm more than thrilled to see my mom working as the local Postmaster – it is great! Now, whenever I send a letter or package, I can just give it to my mom! That is quite fun. I have already mailed one of my packages for "The James Fickle Show Ministry" through her.
Lets go back a bit though before she came to this job, even before she came to the great state of Texas to be with us.
July 26th ,2010, she caused me much pain and on August 1st, 2010, even more pain when she walked out that door and left me and her entire family, She said she would come back but never did and as you know ended up marrying the homeless man that we brought out to our farm to help get back on his feet – I was very disappointed in my mom during that time and hurt by her as well. It was frustrating to me that she had done this to all of us. It was also frustrating all I could do was pray and ask God to watch over her, open her eyes, and bring her to her senses so she might realize what she had done.
During this time though my grandmother was telling me that I shouldn't be doing and saying what I was doing that it was going to hurt my mother. Well I didn't do, say, or write anything to hurt her on intentions though I assumed it probably would hurt her, yet that wasn't my plan or purpose. My plan and purpose wasn't for myself but because I was feeling led by God to get my story out there so that maybe others going through the same situation would have hope… that's all I was trying to do and It's all I'm still trying to do. I pray that I may be a light of encouragement for others to give them hope.
Notice I quoted a man named Derek Clark. He goes by Derek Never Give-Up Clark on Facebook, he helped show me hope and actually inspired me to make the video I did expressing my story to the world I called "Heartbreak In An Empty Room". If you watched that video you know that my mom, my family and I have come a long ways since I posted that video.  I still have my guitar I got with the contest money I won and I play it nearly everyday.
My mom is now back with the family and it is good; I am happy.  But there are still times I feel a bit uncomfortable about it. She did do a lot of damage to us all in two years and caused everyone a lot of pain, but she is a good person and I'm very proud of her for getting this new job.  I'm so thankful that she got away from that man. That is actually the most important thing I'm thankful about. I hoped constantly, praying endlessly that even if God didn't put her back into our lives that he please get her away from that terrible man.
"God gave us HOPE so that we can COPE"_ Nathan Tune

Many prayers for my mom went up everywhere.  I would go this church down the road from me when I still lived in Missouri. They were in revival and every night, I would go to the altar and pray, just begging God to please here my cry. I know he heard my cry during that time. I knew he was listening to me and even though he wasn't working on MY time he was working on HIS time!
It may have taken two years and I'll admit there were times when I began to start doubting but then God always showed me a reason to BELIEVE. My grandma has always instilled in me to BELIEVE – that is some of why my faith is so strong. When my mom left the man and got away I was very happy but then I was disappointed again when she decided to take him back.
All of these excuses she kept making up… I was so upset. Never did I hate her or even get mad at her. All I felt was pain and HURT. I didn't understand why SHE couldn't just open her eyes, see the man she was with wasn't worth her life, and hear my cry. Not only was I hurt by what she done to me but it also hurt to see her in that situation. It was hard for me to see her in that type of life and that's why I prayed God please get her out of there.
And he answered my prayers! He got my mom out of that situation and he put her back into our lives as well! Not only that but he has given her this wonderful job at first she couldn't even get because of some technical difficulties – but it most certainly is GOD'S WILL! I am very proud of my mom as begins her new life with us here in Texas and VERY proud of her about being the Postmaster! I love writing letters and sending mail. Mail is just a fun thing! Real mail that is, yes it may take sometime for it to arrive, but I believe that's what makes it all worth while – plus being able to hold something in your hand.
To my mom the Postmaster! I pray that God give you the strength, energy and everything else you may need to fulfill the requirements of your new job at the local post-office!
God bless you all.
Sincerely,