Live The Journey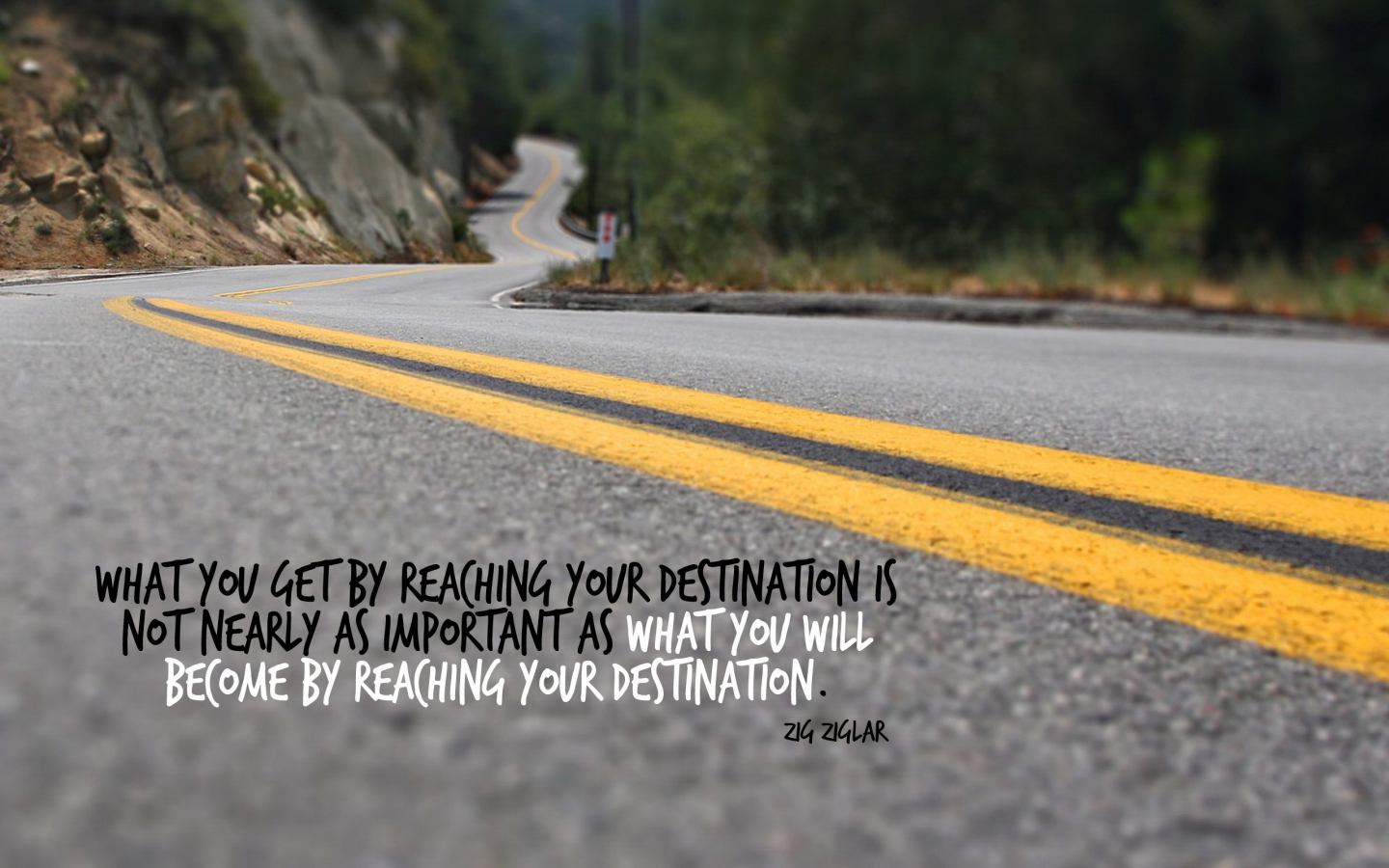 Over the past few days I've been discussing dreams, the impossible being possible, and believing in those goals – no matter what.
Even though it's important that you reach for your goals and leap into them with great determination, will power and perseverance, it is also important that you remember it is not nearly as important to reach your destination as what you will become by reaching your destination.
I know one can become extremely anxious while setting out on the path to evolve into the greatness you know you can be, but on your journey don't forget to stop and smell the roses every once in awhile. It's ok to take your time and stroll along. You don't want to get too hyped up in the moment because you could miss out on a few things – a lot, actually. And that wouldn't be good,  now would it? Imagine yourself traveling across America on foot whereas to driving a car across the states instead. You'll be able to take a lot more of God's beautiful world from a very different perspective than you would in a car.

"But we stupid mortals, or most of us, are always in haste to reach somewhere else, forgetting that the zest is in the journey and not in the destination."- Ralph Delahaye Paine

I can agree with the quote above. The zest is in the journey – and not in the destination. We get too caught up in the moment and don't realize what we're missing out on when we're constantly going, rush-rush-rush, just to get to our next destination.
Now I know in today's day and time, time is a valuable thing and people try to rush around every minute to squeeze every last drop that they can get to save time. But if you're rushing around how are you really saving time? How does that save time? You're moving around rapidly and life is moving just as fast. You don't take the time to slow down a little and just watch the sunset or sunrise. No, you're too busy getting ready to go to your next doctor visit or business meeting to worry about the beauty of the sun's light spread out across the sky. Not only should we slow down for the beauty of life to enjoy our journey, but also for the good that will come of us as well.
What you get by reaching your destination is not nearly as important as what you will become by reaching your destination. During the journey of a lifetime you'll learn a lot, I'm sure. I've got an adventurous spirit myself, you know. I ache to travel cross-country and then around the world. But first, I'm going to start with home and then I wish to go overseas eventually.
I want to see all 50 states one of these days, and then I want to see Italy, France, and London so I can have fish and chips and drink tea… Spain, Scotland, maybe Australia as well. Wonder what things I will see during those adventures? When going to Spain, I plan on traveling this Christian pilgrimage called "El Camino De Santiago De Compestela" . There I could share my testimony and have a journey to remember forever! What creations of God I'll stumble upon, oh and the people I will meet! I'm sure some might be wicked, rude, crude and just downright evil and then I bet I'll come across many good people as well and that's what makes it all worth while. The witness I could be for them as well, possibly leaving a footprint in their hearts that will stay with them forever and always.

"Just because one apple is spoiled on the tree why toss the rest of apples away as well? Not all apples are spoiled, therefore they shouldn't be thrown away without ever giving them a chance first. Same goes for people."- Nathan Tune

Yeah, this world is full of bad apples. You just gotta inspect carefully be wise and keep searching for the good ones. Because you will find them! They are out there and thanks to them it helps give others hope that the world isn't as dark as it seems. Follow your dreams, travel, focus on the journey and not the destination. What you will become by reaching your destination and much more. You're never too old for dreams either.  You're never too old for a journey or to start a new adventure.
Remember what I said awhile back? NOTHING IS IMPOSSIBLE. With God ALL things are Possible! I guess we should all learn to stop forgetting that the zest is in the journey and not the destination. Think about it like reading a book. You don't pick up a book just so you can get to end quickly, and it isn't the same if you just read the end of it. I mean, yeah, for some people it is but look at all the pages you miss out on by doing so. True book lovers read each and every single word, ingesting every single page until the very last one. It's a journey for most. I know it is for me – and my imagination can run wild! That's another thing I ask you to do:  let your imagination run wild!

"The world is a book and those who stay at home read only one page."-St. Augustine
Get out and about, people!
LIVE THE JOURNEY!
God bless y'all!
Sincerely,