Believe and have Faith
Believing
Most people don't know that believing ties in with faith and in a bigger way than they realize that faith is believing.
Faith in God
Most people think of that in many different ways but let me explain to you how I think of it.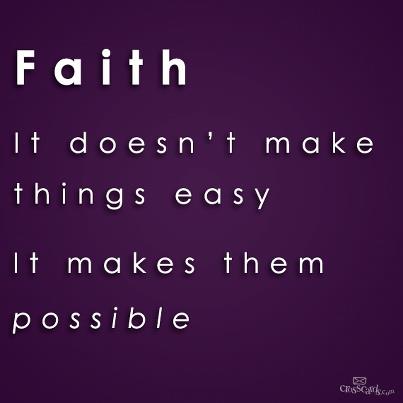 Here is one of my favorite quotes about Faith:
"Faith consists in believing when it is beyond the power of reason to believe."_ Anonymous
During times of trouble we turn to our faith, we turn to God, but what about when we aren't going through hard times? What when about everything is going just right for us? How often do we stop take the time to talk to God and thank him for everything he's given us?
I believe because we can't praise God during our good times, that is why he brings us back to our knees sometimes often so that we can come back to realize that we need to always have faith in him for everything we do in life.
Believe in God is having faith that he will guide you through the right path, and that he will be there for you. I've always been told that God has gone before you; whatever trial you are going through he has already walked ahead of you he has seen the end and whether you win or lose, everything will be just fine.
"Those who have faith must be courageous."_ Nathan Tune
It takes great courage for one to have faith when it seems there is no sense in believing in a hopeless situation; But you've got to just believe that God will take care of everything and let him lead your life. In every little thing, not just the big things; because he wants you to let him be there for every part of your life, let him guide you.
Have faith, believe, hope.
Sincerely,