Extreme Mice Fighting!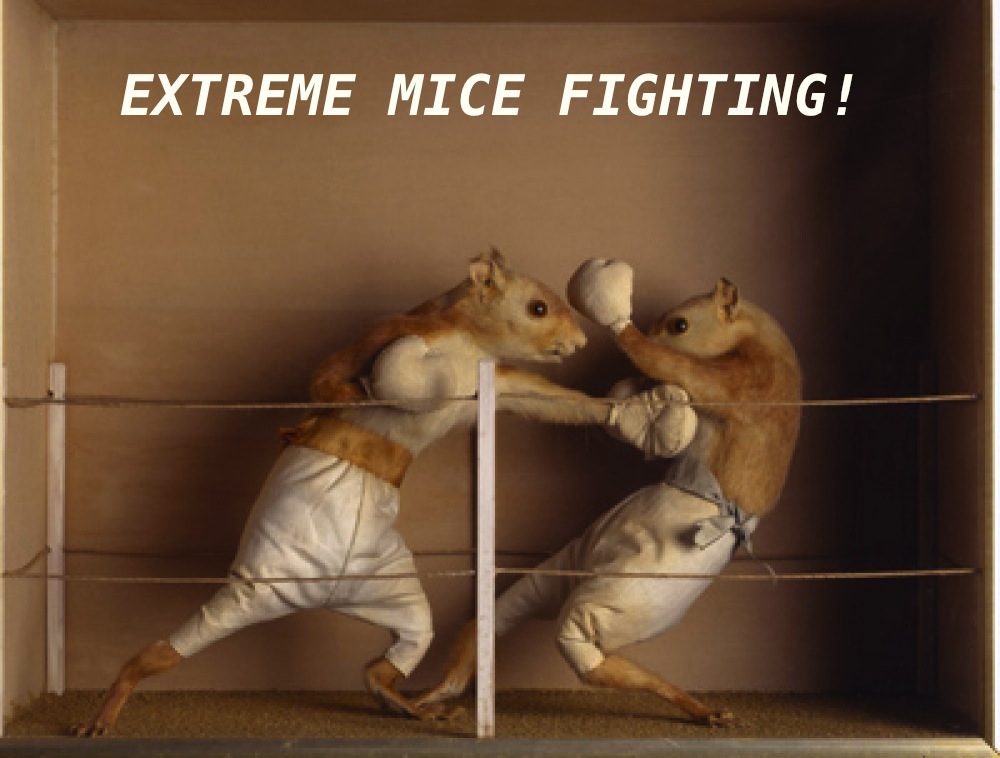 Hello, everyone!
Today I'd like to talk to you about a very crazy event that happened to me one day while browsing a pamphlet for some cell phone company.
I had just taken the information from the counter and starting reading it while my mom and grandma were checking out….
When this guy walks up behind me and asks: "Don't I know you?" Puzzled, I take a glance at him and during this whole event – I am in shock. Because I know I don't know him at all; I'd never seen him in my life but I have no idea what to say so I just stand there in awe.
He then proceeds to tell me his name and how we met. He had two events to explain how we met. He first said that we met while he was a back-up dancer for the movie Magic Mike.. Now I just couldn't help but start laughing. My mom and grandma couldn't help but laugh either. My mom, especially, was absolutely hee-hawing and almost snorting!
But wait, I just thought it was weird until the next event he began to explain how we knew him. He said that he met up with me and my grandma and my mom too, out on the parking lot of Wal-Mart where he was wrestling mice. He told us that he was an "Extreme Mice Fighter" and that he put the littlest boxing gloves on them and fought them, then he went on to say that my grandma was there too and that had been betting on one of his mice! And that was an outright lie – we are Christians and none of us are betting people!!
By then everyone was dumbfounded and I had come to the conclusion in the back of my mind, finally, that this was just some kind of prank or something. Honestly, I myself, thought it was kind of funny because it reminded me of a funny thing my best friend and I have talked about doing when we get together.
Back to my mice fighting friend though – he continued to try and make us believe that we knew him. OH and I forgot to mention that when he first came up to me my mom had to tell me to shake his hand so I did and still in shock I was wondering when he was going to let go, finally after quite sometime I started to wiggle out of his loose grip.
What an experience huh? I sure won't ever forget that day! I ended up giving him one of my business cards that day and I went home and posted this photo on my Facebook page saying "EXTREME MICE FIGHTING" above it but I never explained in detail what it was all about. So for those of you who seen it, now you know.
Had to laugh today. God definitely has a sense of humor and sometimes he shares it with us.
Blessings to you all!
Sincerely,