Courage!
Anyone ever seen the movie Courageous? Ahh! I LOVED that movie! And also Casting Crowns wonderful song! We were made to be courageous! Such a wonderful and great uplifting song of encouragement – I got a lot from it.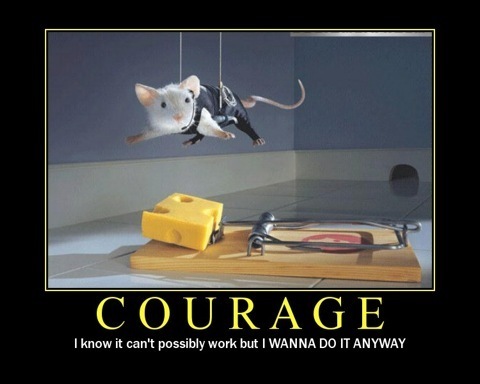 Even though you know it can't possibly work, you are going to do it anyways! Love that picture above with the mouse…  makes me think of the EXTREME MICE FIGHTER!
I have often said one who has faith must be courageous because it take a lot of courage to have faith when things seem so hopeless and as if there is no way for any good to come out of the situation. But I'm often talking about how everything happens for a reason and a purpose a good reason and a good purpose.
Though we can't understand it at the moment, later on throughout the trial, we then begin to realize that God works everything out according to his plan for his perfect will and for our best interest. I know some things can not be understandable for most but believe me, he has a reason and though you can't see it now at this moment he will show you one day.
"Courage is being scared to death, and saddling up anyway."- John Wayne
Gotta love John Wayne! Another one of my favorite quotes from him. There is another one I really liked but I'll save that for another time.
Courage!
I've always been fascinated with this feeling, this great emotion God gives to us but that is just the thing! It's GOD-given and when God gives it to you, nothing can take it away! If you believe in him with everything in you and if you want to serve him fully and completely with everything you've got then I'm here saying to you now that there is NOTHING that can take that away from you!
BE COURAGEOUS! HAVE FAITH!
"Be of good courage, and he shall strengthen your heart, all ye that hope in the Lord."- Psalms 31:24 K.J.V.
All ye that HOPE in the Lord!
You're hoping in the Lord, right? Then be of good courage people! I know things may seem bad right now and you don't understand why it is that God would put you through such a trial. You may have a loved one in a situation that you wish he/she wasn't in but you've got to understand, though, that person means so much to you and what they are doing and what they have done hurts you deeply; know that you can't control that person, all you can do is pray for them. Hope that they are ok and pray God opens their eyes. You can't make them serve God no more then he can, but if you just hope in the Lord he will give you courage, the courage to be a great witness for him and that's the thing – he doesn't just call us to go out and witness his word he calls us to:
BE A WITNESS!
No matter where you are, who you are with, or what you are doing he wan't us to be a witness, which means letting our light shine, sharing hope in others, and being an example for him.
God bless y'all!
Sincerely,