Breakfast Quiche, Holy Peace!
Weird title for today's blog post, isn't it? I made a quiche for breakfast yesterday and I wanted to talk about that today! And how I made it. What I like to do is take some chopped-up onions and peppers, add some broccoli, carrots, cauliflower, summer squash and zucchini. Add about two tablespoons of that and saute it to your liking and then for a serving size of six beat about 5 eggs in a glass bowl and stir in the vegetable mixture, 1/4 cup of milk and a cup of cheese in and then pour into a 9″ deep pie crust. You'll notice mine sets inside of a cast iron skillet. I like to do that so that the quiche can get an even heat all around it. It's also good if it decides to run over for some reason, that hasn't happened to me though. The quiche is really quite simple to make – and very delicious!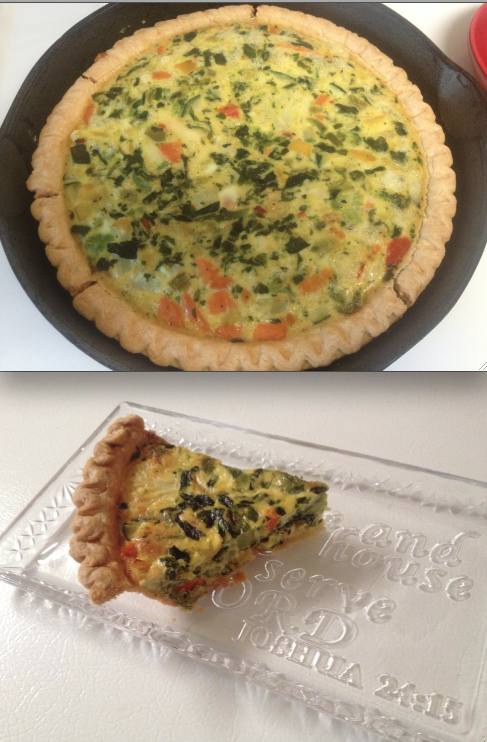 My family usually get's up at around 7 am most mornings; it depends. I usually like to make the quiche on Sunday, so depending on what I've got planned for the day (If I have to write a blog post or not) I get up at about 5 am, get woken up, watch some T.V. and then at 6 am I get my quiche ready to go in the oven! It usually takes about 45 minutes so I like having it in the oven by 6:30 or sooner. It normally gets done in time that my family is just getting up in time for breakfast. I hope you enjoy trying this recipe!
Here Is What You'll Need
2 cups of veggies (I used: Broccoli, Cauliflower, Carrots, Summer Squash, Zucchini, Onions and Pepper.)
2 Tablespoons of Butter.
1/4 cup of milk.
1 cup of cheese. (Cheddar or cheese of your choice)
5 eggs. (Serves six)
1 9″ deep pie crust shell.
Directions
Preheat oven to 350′ degrees.
Melt two tablespoons of butter in skillet, add onions, peppers and other vegetables. Saute them to your liking.
In a glass bowl beat the five eggs. Pour in 1/4 cup of milk and 1 cup of cheese, then stir in your vegetable mixture.
Pour into pie shell and put in the oven for 45 minutes or until browned. Also If you'd like to add some sausage, (I use turkey sausage) that taste really good in there too!
Hope you enjoy your quiche! For those of you that try it, let me know!
I am sure those of you who are used to my normal blog posts… you're wondering what in the world I am thinking! Well, I will tell you. I LOVE cooking! When I was 12 I won a local cooking contest (the grand prize!) with my pizza egg muffins! They beat my grandmothers original chicken pot pie and the other pot pie my grandma made which was Paula Deen's recipe! I beat them both! And won FIRST prize for the lunch category, my prize was a $25.00 gift certificate to a local supermarket and one-year bragging rights for my winnings.
I've  always loved to cook in the kitchen, and as I get older my passion continues to grow! If I'm not behind the camera acting or behind a microphone singing, I'm behind the cookstove cooking up something scrumptious! Mmm Mmm… GOOD!
I have recently been looking into a culinary cooking school, I might enroll and take online courses to become a chef! I love cooking and as I've gotten older, I like to cook up different recipes more and more.
Last Sunday I fed my family a stew that I prepared for three days! On Thursday, I took the meat out of the freezer and cooked that all night long with the seasonings, then on Friday morning at around 5 am, I put the vegetables in, and Friday evening I put it in the fridge for the flavors to 'marry'. Sunday, I took it out at 5 that morning and reheated it the rest of the day for lunch. My, was it DIVINE!
I added extra and made it up again for that evening so that we'd have supper after church, but you sure could tell a difference in the stew that I had prepared for days and the stew that I hadn't!
And you're probably wondering where the "Holy Peace" part is coming in with this blog? Well I'll tell you, I've been going to church lately and most churches I've been to throughout my life repeatedly mention one thing, one subject. Maybe even more then they do the name of Jesus – and that would be FOOD! Even behind the pulpit, I've seen both the evangelists and pastors speak of food repeatedly before they ever get into the word of God. The word of God – the REAL food that we are all supposed to be at church to eat in the first place!
Now everybody likes food, but when you let it over take every part of your life even on God's platform then to me, something there is just wrong. You can have your breakfast quiche, but remember to make time for your holy peace. God's peace, his word.
I hope you enjoyed this blog post today! Be sure to check out tomorrow's! God bless y'all!
Sincerely,