Well then…
Well hello and Merry Christmas, everyone! Six days until the big day now, isn't it? I'm beginning to run out of things to talk about, or at least that is how I feel at the time.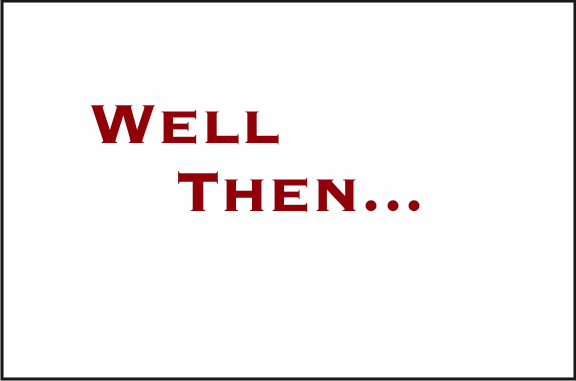 I doubt that I will ever really run out of anything to write about or talk about it is just a matter of the inspiration that will show me how I want to form these words to get them out to all of you. It can be tricky sometimes, this appears to be one of those days. Other times this can just come naturally for me.
Some people don't like to write at all, other people hate to write and then there are those who love, love, love to write! I do enjoy writing little things here and there. I do have to say that my first 30 days of daily blog posts  were truly blessed that's for sure. There just isn't any way possible that I could have alone written those blog posts. I thank God for the daily inspiration. And ask him for more as I'm trying to finish up this year.
So I didn't really title this blog post at all. I like to write something that will be very  encouraging and uplifting for people. Something that will make them face the day with a new perspective on things. Hopefully something that will give them a new approach on life, you know? But sometimes, all of that can get a little hard!
Here's something to think about today that just came to me, before I get on that let me graze off into another point. I try to plan these blog post ahead as best I can not just my blog posts though but everything else as well. I like to have it planned way before the time comes. But sometimes that is just impossible so I'm left trying to cram something in at the last few minutes. So sometimes I just start writing and ask that God will have me say what is is he would have me to say.
Today though, let's think about something he just brought to my mind… What the title of this blog post really should have been in the first place actually..
Being 'Positive' in a 'Negative' World.
You see, the title makes a lot of sense. To me anyways. If you look at this life we as Christians are supposed to look at life then the 'WORLD' no matter how we view it in reality it seems it happens to be a very 'negative' place right? Think about all of those places in the bible where it talks about the world not being our home how it is that we don't belong here!
This world is a big NEGATIVE for us as Christians right? And it proves to be that way more and more. What with all the wild eyed liberals today that are attacking us more and more. Intolerant beasts that's what it seems right? They say WE are the intolerant ones? They say WE push our religion down peoples throats? Ok.. Well, what about them? They don't do ANYTHING wrong now do they? No… Except how many of you Christians out there are tired of having ATHEISM rammed down your throats?
Well let's get off that rant, though it did have a lot to do with what I'm about to say. We, as Christians, have a duty to be a light in dark world, to be positive in a negative world and to love in a hateful world. No matter what. And I know it is quite difficult I know but no matter what like I said before. We gotta ask God for guidance and wisdom, trust in him and believe he'll have us say what it is that he would have us to say.
Merry Christmas Y'all and God Bless!
Sincerely,