Walk On…
Do you ever wake up in the morning feeling as if you just can not possible go on any longer than you have already gone? Does it ever feel as if you have took the last step that you can take and far too weak for more?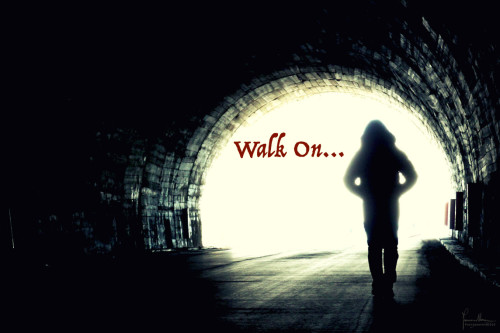 Be not afraid and be not discouraged, times can get unsettling every now and then and it sure can seem as if we have reached our final destination but just when we think it might be the end it turns out to be the beginning of something beautiful, isn't that amazing, I think it is, here's what we must do though on our own, we have to be willing to walk on bravely and boldly through the hardships and whatever else it is that life may throw our way we have to be ready no matter what.
Reba McEntire's song 'Walk On' is in no doubt the inspiration of today's blog post, I was listening to it in the early of the morning one day and I have always loved it, the lyrics are rather plain and simple like a lot of famous country songs, it encourages you to move forward with determination and will power through all that may come your way because we know that life will get us down and may even knock us to on the ground every now and then but we just need to walk on through all the pain and tears, because there is indeed something better coming our way.
The Best Is Yet To Come:
I am constantly saying this, because it's true, if we hold out for a little bit longer we will be given a great surprise that's for sure. So many times people come to Christ thinking that this way is easy and filled with great luxury but that's only because they are fed a lie from 'Pastors' that just want to get someone in the pew to pay the tithes, and I'm not saying living for Christ doesn't have it's perks because it really does it just isn't the riches of this world or anything material like most would have you think, and that doesn't necessarily mean it isn't OK to have nice things either but the point is, going to Christ for nice things really isn't the right way to go about it.
We are to trust and obey him in all things and he will lead us to his perfect will, in many cases he is sitting and waiting for us to move, because while we think that we are waiting for him to move, he has already moved in a greater manner than we could ever imagine, sometimes it takes opening our eyes to see the greatness that is set out before us, we must believe with everything in us that everything we may go through both good and bad is for a reason and a purpose, a 'good' reason and a 'good' purpose.
In Conclusion:
This may be hard for many of us to comprehend but we must not be dismayed, because it is the truth of his word, it is the beauty of his way, in the scripture it tells us that all things will work together for his good.
And we know that all things work together for good to them that love God, to them who are the called according to his purpose. – Romans 8:28 KJV

Amen to that, amen? So many times we can get caught up in worldly reasoning and we forget that God is higher in his ways then we are, and his thoughts are not the same as our thoughts, he knows all and sees all, he is the beginning and end, we are told in the scripture that to everything there is a plan, a purpose and a season, we must trust and believe in him at all times, for he is worthy of his praise and he is justified in his ways.
Thank you for reading today and I hope that it has been of some encouragement to you, until we meet again I pray that you all be uplifted in Spirit and health.
SHALOM –