"The James Fickle Show"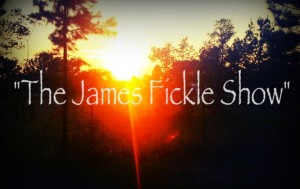 James Fickle is a fictional redneck preacher just trying to lighten everyones day with a comic relief Gospel message when and wherever he can.
Created by Nathan Tune. Subscribe to both!!
www.youtube.com/nathantune
About James Fickle
James Fickle is a 53-year-old minister who has been a preacher/evangelist for 27 years now. He got saved when he was 25 and started evangelizing at 26.
Born in Jackson Mississippi, he lived there until he was three when his parents moved to Dallas, Texas where he has lived pretty much all of his life – it's always been considered his little piece of Heaven on earth.
Preaching/Evangelizing all over
 A word from Nathan about "The James Fickle Show":
The character of James Fickle and the show was created totally out of boredom.
My grandparents were in the vet office having our small dogs looked at, while waiting on them. It seemed to be taking forever, so I decided to get out my iPhone and start recording a voice memo.  It was all improvisation; none of it was thought up or planned; it just came to me naturally.
It was never my intention to take the little improv as far as I have but after posting that silly video to youtube, several people liked it and they encouraged me to keep the show going – SO I DID!
The James Fickle Show now has 20 messages that I have burned off onto two CD's (Part 1: Messages 1-10 and Part 2: Messages 11-20). That is the COMPLETE FIRST SEASON.
I do accept freewill offerings and donations. Also, for a love offering of $20, I will send you the COMPLETE FIRST SEASON of the James Fickle Show. These two CD's are chock-full of inspiration, motivation, encouragement and more. It's perfect for your loved ones or friends who refuse to go to church but you know they need to hear the word of God and be encouraged in their heart and soul. (Even rebellious teens enjoy James Fickle! He makes them laugh in spite of themselves!) It is also perfect for your fellow Christian who is going through a battle – or several battles – at the moment and need to be inspired and refreshed so they can continue on their walk with God with a lightened load and pep in their step.
100% of your offerings and donations will go to my ministry – which includes going toward keeping the James Fickle Show alive and helping it to grow as well as supporting all of my ministry goals and endeavors. I have a burning desire to do a great work for God in many areas!
This is just the beginning – the best is yet to come!