This Was My Dog "Miracle"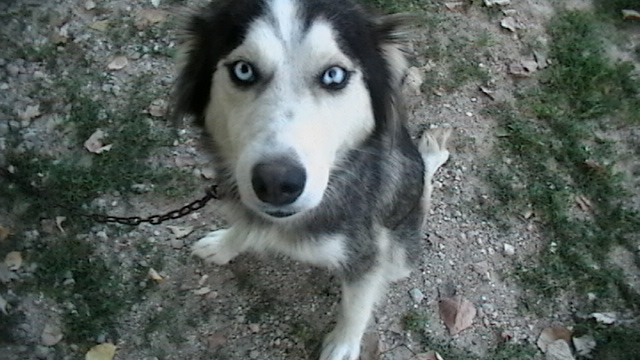 Around July of 2009, my grandparents were back in our old town at a doctor's appointment. Well, after they were done there they went to visit with some friends.
My grandpa told me that when he stepped out of the car, he saw the most beautiful blue eyes and he smiled – but his smile quickly faded when she came fully around the other car, dragging her hind legs behind her all crippled up.
A girl who my grandmother practically helped raise, was walking home from school one day and she found this dog on the side of the road; some punk kids had run her over. She was pregnant and had a full litter of puppies in the condition she was in..
Another girl also like a daughter to my grandma was going to be coming back with them to spend a little time with us all.They knew how much I had been wanted a blue-eyed husky. Miracle was a blue-eyed Husky/Shepherd mix.
When they pulled in the drive and I saw her, I looked into her eyes and fell in love immediately. I already knew what "I" was going to name her because they had named her something else but I wanted to name her myself. It didn't take me long to figure it out.
She was a Miracle – a Miracle to me, and to be alive.  I loved that dog. I still get tears when thinking about her to this day. This dog had all these problems wrong with her. The vet said that she had no quality of life. We wanted to save her. We knew she was in much pain. But it seems she never wanted that pain to get in her way of anything. I learned quite a bit from her and I felt I had a little in common with her too as I've always had muscle problems and issues with my legs. I've never been able to run like other kids, play sports or stuff like that. Kids would ask me to play tag with them and I'd only have two choices in my mind. Either tell them no I can't play tag and explain my whole problem – or play tag with them and go home not being able to sleep at night in severe pain.
Miracle was always a happy dog, the happiest most energetic sweet-spirited dog in the world to be dealing with what she was. She never tried to bite or hurt us when we'd go to bandage or take care of her wounds as instructed by a vet. She rarely gave us any trouble at all. And when it came time for her to get to run around a bit she would run her fastest with her legs just dragging behind her. There again I felt a similarity, a connection.
When I was born, I suffered with my legs really badly. One of my legs was crippled terribly and when I started toddling around, I drug it behind me but it was literally healed by God when this elderly evangelist pray for me and they said it turned out straight and I could walk regularly.
Miracle would try her best to keep up with the big dogs and she never let anything get in her way. We didn't even have her a year when we had to put her down in May of 2010, I believe. We had done all we could do. We couldn't afford the wheel chair for her like we planned on getting. And we most definitely didn't want her to suffer any longer.
It was hard saying goodbye to her, but at the same time a good thing to know that she wouldn't be hurting or in pain anymore. I remember looking into her beautiful happy eyes one last time and that was it.
We buried her on our Amish Farm back in Missouri.
Miracle may have only been in my life for a short period of time. But she continues to live on in my heart.
She was the most amazing dog I've ever had.
Have you ever had a "Miracle" in your life?
God bless y'all!
Sincerely,