I was talking with a Mormon friend of mine the other day (yes I said Mormon, you can come out of hiding he won't bite) and we had began discussing how there is a great difference in believing that Grace alone saves you and believing that through Grace you are saved for the workmanship of the Lord, many people tend to shout that Mormons believe in a 'Work To Gain Heaven' sort of doctrine and I can tell you this first hand.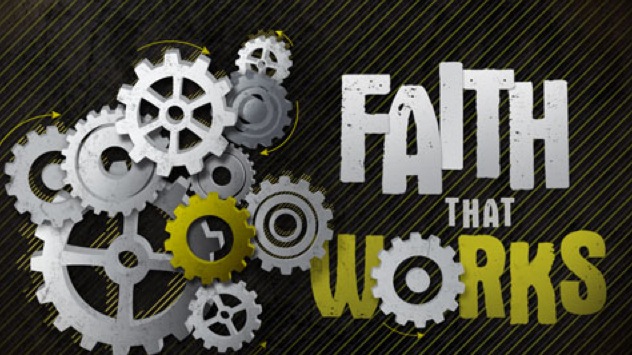 They believe that the bible tells us that we are saved by grace and only grace, no amount of work we do could ever actually save us not in a million years, because our works aren't God's works. Our ways are not his ways and we couldn't possibly think that our own dirty works could save us, they can't and that is what they believe, they believe that we were saved by grace and that it is a gift of God not of our own self in any way. And they believe what the bible tells us, they believe that rather than being saved BY works we were saved FOR the work of the Lord, workmanship is what the scripture calls it and though I do not support or promote Mormonism in any way, I have to say this on the matter of grace, faith and works, I have to agree, with the Mormon.
Bible Verse:
 For by

grace

are ye saved through

faith

; and that not of

yourselves

: it is the

gift

of God:
Not of

works

, lest any

man

should boast.
For

we

are

his

workmanship

, created in Christ Jesus unto

good works

, which

God

hath before

ordained

that

we

should

walk

in them. – Ephesians 2:8-10 KJV
If my understanding is absolutely clear, which I always try to have as clear of an understanding as humanly possible of other peoples way of perception about certain issues. That is for myself and that is for them as well, so I don't say something that they didn't and so that I do not say anything wrong about them or anything that would make myself look like a complete fool in front of everyone, so with that said let me repeat myself if I may. If I am fully understanding in what my friend and I discussed, what I am about to explain next he will agree with it without one problem at all, and if we choose to disagree or disbelieve it then we may be in great danger depending on how exactly we look at it, because it is important and it's something that can confuse people.
Let's break it up into the three categories and discuss each of them individually starting with the first one.
GRACE –
It is undeniably clear that we are saved by the grace of our Lord Jesus Christ and by his grace ALONE, we know that if it were not for his grace that is exceeding in sufficiency or us all that we would be far gone from this world, as matter of fact I don't even believe that we'd still be here if it weren't for the loving grace of Abba-Father God, many times we go through this life unknowing of how effective his grace is in our day to day life. We don't even realize that aside from having eternal life by his grace that his loving mercy is actually what carries all of us through the work day, it helps keeps us going when we are at our lowest, and all that time we thought it was a halls pep me up cough drop, or our 5hr energy, that gatorade sports drink we had earlier, or whatever, when in reality it was God's amazing grace giving us the strength to make it through.
Bible Verse:
My grace is sufficient for thee: for my strength is made perfect in weakness. Most gladly therefore will I rather glory in my infirmities, that the power of Christ may rest upon me

. – 2 Corinthians 12:9 KJV

His Grace saves, it strengthens, emboldens, encourages, gives hope, sheds light, picks us up when we are down and carries us when we are too weak to move on, it gives us knowledge in wisdom, and power that we wouldn't of had otherwise, his grace is truly amazing and it is sufficient for us all.
FAITH –
When we are weak and it feels are if there is no way out we must always have 'faith' to get us through, without faith in God's ability to help us in our dire times of need then it will be ten times more impossible to make it out, there is many sayings about faith and many ways that people can view it, but the bible tells us that faith can save us, faith that Jesus Christ died on the cross for our sins so that we could have eternal life, faith that he has given us eternal salvation by grace as a gift if we would only accept it through faith.
Bible Verse:
Now faith is the substance of things hoped for, the evidence of things not seen. Hebrews 11:1 KJV

It has been said that with faith it doesn't make things easy, it makes them possible, and the more you stop to think about that then you will begin to find that to be more and more true then we might even realize, because we know that life can get incredibly hard at times and it may seem as if it is impossible to continue on. As if it is impossible for us to ever be in any other place in our life then the current hardship that we are in right now, but by having faith in God we know that on our own it is impossible, but with him ALL things are possible and this gives us hope, it gives us strength, it gives us the power to keep on going, because it will never be easy, nothing good is ever easy but it isn't impossible.
With faith in God all things are made possible.
WORKS –
So what exactly does works mean to us if we are saved by grace and not by works? Where exactly does works even come in, or do they even come in the equation at all? Well yes, they do, I believe that works play a big part in a Christians life, I believe that the bible tells us that we are saved for 'good' works as we seen in the scriptures above, we aren't saved by our works because our works aren't worth one penny to God. However, if we truly have faith that he died for our sins then we will exercise our faith daily by doing the works that he has ordained us to do, the works that he commands us to do for his kingdom.
Bible Verses:
What doth it profit, my brethren, though a man say he hath faith, and have not works? can faith save him?

If a brother or sister be naked, and destitute of daily food,

 And one of you say unto them, Depart in peace, be ye warmed and filled; notwithstanding ye give them not those things which are needful to the body; what doth it profit?
 Even so faith, if it hath not works, is dead, being alone.
Yea, a man may say, Thou hast faith, and I have works: shew me thy faith without thy works, and I will shew thee my faith by my works. – James 2:14-18 KJV

Some very powerful and controversial words from James there now isn't it? It seems to me that they are so controversial that people just tend to 'mentally' rip those verses out of the bible and ignore them completely, but we can't just highlight what we like and ignore what we don't like because we need to take in the wholeness of his holy word, if we don't then we would be lacking in spiritual nutrition and this in the long run would not be a very good thing.
In Conclusion:
Everything in the word blends together in a perfect harmony and nothing contradicts itself, it may seem at times contradictory if it is read in the wrong context but it is not in any way at all, the scripture goes together beautifully and it does so for the betterment of our spirituality – with God himself. The subject I have chosen to talk of today can many times become quickly misunderstood by others if they take it in the wrong context, but if they look at it according to the scripture for what it really is then they will see exactly what I am trying to say and they will even see exactly how Mormonism see's it.
Paul Said:
What then? shall we sin, because we are not under the law, but under grace? God forbid. – Romans 6:15 KJV
I believe that it is a matter of living your life as holy as possible for Christ, you may make mistakes every now and then and because of his amazing grace he will forgive you for 'mistakes' but the thing is, we can't purposely intentionally sin after knowing of the truth of the gospel – we can't 'willingly' sin, some people say that we willingly sin everyday but really we do not, because there are still people who do not truly know that they are sinning and because of this if they find Christ when they do realize that they are sinning and claim to believe in him at the same time yet continue on in their sin then they haven't truly been saved, what this post is to say to everyone today or rather to make everything think of is this.
We are saved by grace, through faith and not of ourselves or any works of our own doing, yet we are saved for the workmanship of Jesus Christ that he has ordained for us, there are verses that tell us us that people will come to God saying "we did many works in your name" and he will turn to them and say "depart from me ye worker of iniquity, I never knew you" but why exactly would that be my dearest of all friends? Their heart wasn't isn't, you see, what this post is to insinuate today is that, having a relationship with Jesus is about an equal balance, it's about serving him in spirit and in truth, it's about walking and talking and talking and walking, it's about grace it's about faith and it's about doing his works for the kingdom, what this post is to say is that without works in a Christians life then their faith isn't likely true to the Lord and it is also to say that only Christ saves us, not works.
And at the same time it is to say that we will be judged by our works as well, it eally makes perfect beautiful harmonizing sense if you look at it for what it truly is and if you just did then God bless you my brothers and sisters in Christ, thank you for reading today's incredibly long post and I hope that you have a blessed rest of your week.
Until next time…
SHALOM –