Whatever happened to predictability, the milkman, the paper boy, evening TV. You miss your old familiar friends, but waiting just around the bend, and now everywhere you look, everywhere you go, there just so happens to be some old show coming back to life, and now it appears to me that the 80's are finally making a comeback with one of my favorite shows of all time and it couldn't be a better timing than now!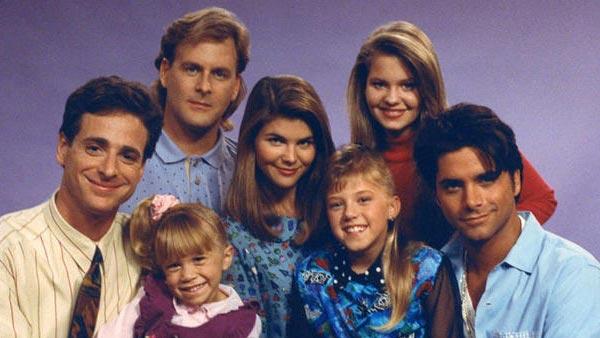 Full House! Or should I say, "Fuller" House will be coming to Netflix sometime next year and I am SO excited every since the first time I heard about this on the internet and from a family member. I have been a long time fan of the show, obviously not when it first came out because I'm not old enough for that but I feel like I am. With Tim Allen being back on TV with his new show 'Last Man Standing' and appearances of 'Rosanne' on 'Cristela' and with the recent spin off of 'Boy Meets World' – 'Girl Meets World' I have to say that this is the perfect timing for such a show like Full House to make a comeback, I believe that in the older versions of Full House and Boy Meets World there was a great sense of morality, this strong ethical teaching deeply rooted in each show that was there to help us all grown and learn.
It's what made these shows so special to me and I believe it's what made them special to you as well, and though it is certain that times have definitely had a dramatic change since those days, such a drastic change that there are some who fear this show won't have the same moral teachings in it that it had on it's first go around, however I still have much hope and I believe that in such a time as these we can only pray to God that they do instill those same moral teachings in this new show because we need that now, far more than we ever needed them when it first aired, I have faith that there is a certain cast member who will not sign a contract to something that she can't morally feel OK with.
D.J. Tanner Is Back –
Candace Cameron Bure, the little sister of our favorite Evangelist/Movie/TV Actor – Kirk Cameron, she has a strong moral conviction that she hasn't been at all afraid to stand on and this shows me that I can trust that 'Fuller' House will indeed carry out those same moral ethics that we so long ago seen in the joy and comfort of our own living rooms, I believe that it will HAVE to be 'fuller' of love, compassion, caring, values and family ethics then ever before, I do not in any sense fully understand why I feel so strongly about this and it's too early to tell, but I do know that if you're a Full House fan and if they truly are bringing this show back for 'the fans' then I just have to trust that they will carry out the same type of moral compass that we used to see.
The focus will be on D.J. Tanner who is Widowed and pregnant, alongside with her sister Stephanie Tanner (Jodie Sweetin) and her best friend of all times our one and only 'goofy' Kimmy Gibbler (Andrea Barber) along with Kimmy's feisty teenage daughter Ramona, who all move in to help take care of D.J.'s two boys — the rebellious 12-year-old J.D. and neurotic 7-year-old Max — and her soon-to-arrive baby.
There are also discussions of the other original cast members making appearances on the show which still remain open and unanswered at this moment, however it is confirmed that our beloved Uncle Jesse will be guest starring on the show from time to time and the first episode of the 13 episode 'Netflix' Season will be a 1hr long reunion show which should of course prove to be very interesting.
In Conclusion:
What are some key lessons that we can learn from today's post? As you know my main objective isn't to focus on a single theme or subject but rather to in a way overview all things that have to do with God, Politics and LIFE, that's what I do here and if you read up about me then you will find that this has been my main goal since the beginning of this site, I think the key lessons we can gain from this is that there is a great desire and hunger for those good old time Family Sitcoms on TV again where we could gather around our Television set in the comfort of our own living rooms as a 'Family' and watch something that we all could watch 'together', something that little kids and adults could watch alike.
Something where we aren't having to turn off the screen from the perversion of sex crazed maniacs or having to mute or cover the children's ears from the outright and sheer vulgarity of those foolishly foul mouthed morons that apparently only have one word in their vocabulary that starts with a capital letter F, is it not disgusting that our movies and a lot of TV shows have been degraded to such idiocy?
Such immorality and pure indecency, it is absolutely despicable in every way and I for one cannot understand why it is that we so mindlessly support anything like that, why is it that we allow our values to be completely compromised just so that we can have some kind of entertainment? Do I watch movies with cursing in it? There are times that I do yes, however before I do I make sure that there is a greater moral to the story, like the recent 'American Sniper' it's about an American Soldier, there is always cursing in movies like that and it was about someone real.
A person that served our country time and time again when we needed him the most he and many others were there to rise to the cause and the least that I could do is see that movie in some type of respect to him, because the moral of that story was greater than the cursing, however, the amount of vulgarity on our home TV screen is far different than that of the silver screen, because it is up the places like 'ABC' 'ABC FAMILY' 'CBS' 'NBC' and all of them to make an effort to provide us with good wholesome entertainment and it is up to us to choose wisely in what we entertain ourselves with.
Because there are many shows allowed on there aren't that friendly for families, filled with dirty jokes and inappropriate comments, it's ridiculous, but that's why I was excited when Tim came back on TV, and when Boy Meets World followed behind bringing that same type of moral compass to 'Girl Meets World' and I do believe that we will all end each episode of the 'Full' House Netflix season 'fuller' of love, joy, and that sweet butterfly feeling deep in our stomach's.
Thanks to all who have read.
Until next time…
SHALOM –