On this day in U.S. History….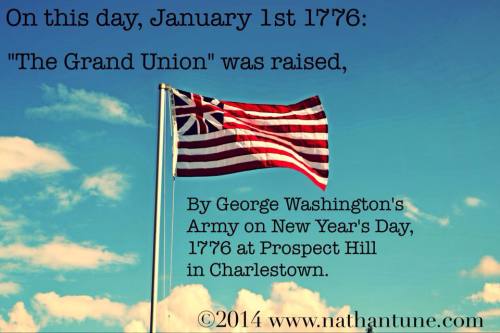 I have shared a photo of this flag before and I bring it to your remembrance once again, you see this flag was raised at Prospect Hill at early one cold winter morning at the beginning of this New Year 1776, a year of Revolution!
The Grand Union Flag, A flag of great significance that is hardly recognized today as a part of American History, who knows maybe it is, but most people I show it to have no idea that this flag has anything to do with America and they become very offended to see either of the flags of the two countries (The U.K. & The U.S.) defaced in such a way with the Union Jack in place of our Stars.
However the fact of the matter is, this flag is indeed the flag our Founding Fathers used at the beginning of this great nation, it is the flag of the early Revolution, it is the flag that was flown on July 4th 1776 (Independence Day) it is a magnificent historical piece that I am proud to own and fly on this very historical day in U.S. History.
If you would like to own a Grand Union Flag of your own you can do so by clicking the picture below:
Thank you for reading, once again Happy New Year & God bless!
Shalom –