Good morning, good afternoon, good evening, whatever time it is wherever you are and whoever you are I would just like to take this moment now to introduce you to my humble abode of the web.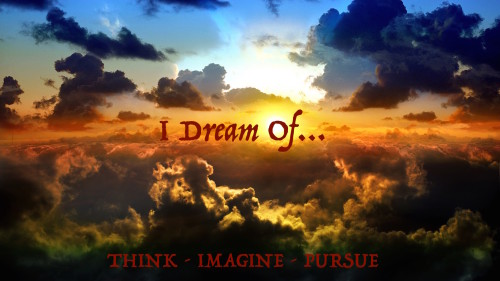 Ever dream of what it might be like to live in a world where there is so much joy that everyone gets along with each other without a single fight? I do, (though that would be a dream) though I would have to guess that it's too much to wish for, there never can be true peace in this world, because someone will hate the other for anything they set their mind to, but It really cannot possibly hurt us that much to wonder now could it?
Perhaps it could but I believe that is for another day, moving on to much greater and even brighter imaginations of the mind, do you ever dream of what it might be like someday to finally reach the other side and see your long lost relative? The one that was on their way to church that night who happened to get brutally killed from a drunk driver, or how about that young Marine that had so dedicated himself to his faith and then took up arms to defend it in war coming back home to be respectfully buried? Perhaps he wasn't a Marine, maybe Air Force, Navy or Army, but regardless their specific military affiliation I am sure it is something many family members and friends of passed young soldiers wonder from time to time, what it might be like to see them one day.
Or have you ever dreamed of going to Australia, Italy, France, England, Spain, Brazil, Hawaii, or any of those great places? Has the thought ever even crossed your mind when you think about all the amazing adventures that you could have traveling the world, meeting new people, seeing,  eating, smelling and feeling all kinds of new things, the way the ocean smells, looks and feels when a nice little breeze blows a small little wave into your direction, or maybe the rich earth characteristics that belong to the cultural country of Spain? Maybe just having some Fish and Chips near the a form of water in England? That's my dream some day, I think that it would be neat to travel and also to write about those travels.
Do You?
How about this, do you ever even dream at all? I'm sure you must dream at some point because it is something that pretty much every person does whether they even realize it or not, dreaming of a new car or a hot dog with your favorite toppings, it doesn't have to be some huge majestic dream any will do really. As long as you are a dreamer, as long as you set your goals as high as possible even if you don't always reach them they will always be there and no matter what if you keep trying with great determination, you might just succeed.
Not everyone will succeed though, but it doesn't mean we can't still dream, we can always make time for that, because no matter what deep inside we will always have an imagination, without it we are pretty much non human at that point. Imagination gives us the power to envision the impossible and 'DO IT' without that we wouldn't have what he have today, and we couldn't possibly be talking with each other on our personal computer devices right now.
Because Steve Jobs and his friends imagined a world where anyone would be able to purchase one of their very own computers, and while people thought they were crazy in thinking that, look at us now, pretty much everyone has some type of computer device, I'm pretty sure that way back then even they couldn't imagine how big an outcome it would have on the world, though I'm pretty sure that Jobs could have, he just had that drive.
THINK – IMAGINE – PURSUE – Nathan Tune
I think that will be my theme next year and I believe I will stick with it for awhile too, because to survive we must first THINK of something wonderful, then we must IMAGINE it's reality and finally we must PURSUE it into existence.
Last but not least…
I dream of a President, a man that isn't afraid to lead courageously and vigorously, a man that isn't some career politician but a man with principals, a President that's real, can you even comprehend what it would be like to have that? To have a REAL leader in the WhiteHouse, in charge of this country? I dream of someone that has a proven record to stand for liberty, freedom, justice, equality and American Exceptionalism, is there such a man?
I believe there is, and while it is left up to each of us as individuals to make our own choice in this life, I myself strongly and firmly believe that TX Sen. Ted Cruz Is that man, I know there are many who may not feel that way but I for one am tired of having my principals compromised just so that a 'Party' can win, we must not allow ourselves to be faced with the lesser of two evils, we have a choice to make and it is our responsibility to God and Country to make the right choice. 
In Conclusion: 
I dream of many things, who doesn't? But at this moment right now more than ever, I dream of a President that fears God first and wants to do what's right for everyone in this country and I do know that views differ about the candidate I've chosen to fully support, I can't imagine taking anything less than strong firm principled people that aren't only focused on 'winning'
But are also focused on fighting 'FOR THE PEOPLE' don't get me wrong, there are a few others I have in mind if hypothetically my candidate was to lose the primaries, but for that to happen the others I have in mind would have to win over the cronies, I believe that there used to be a time when Americans loved God and Country, when politics and God went hand in hand yet religion wasn't made political rather we had a great moral nature and no one was forced to believe what they didn't want to believe rather we had a strong ethical generation of people that loved each other and wanted what was best for their country, being someone young born in this generation even though we are blessed with a lot more ease, I sometimes wonder why I wasn't born in a better era.
This time period is just too wicked and evil for me, but I am able to dream of more than just this world as it is, I dream of this world becoming something better and together we can make that happen.
Until next time…
SHALOM –