Over the years I have been told that I have much reason to be a bitter, angry, no good for nothing out of control, wildly insane person that hates life and that hates everything and everyone in life but I have decided that I will not let my trials and hardships break me, nor will I ever let them shake me, they can and will not bend me nor will they crush me, however I will allow them to make me everything that I need to be and I will choose something better than hate.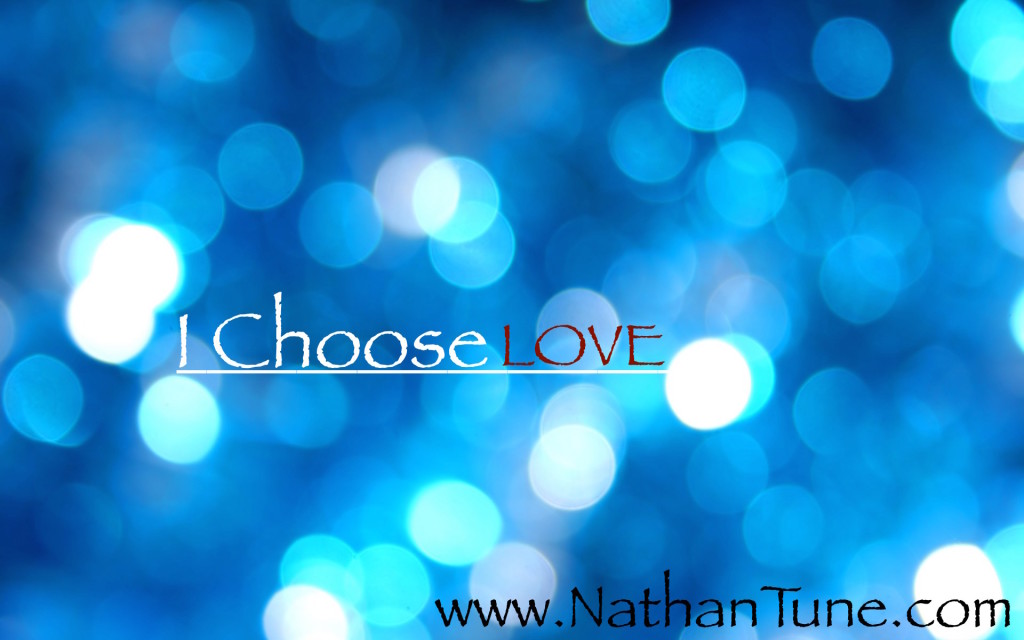 I will choose love, even though there are times that socking someones brains out feels just right for the job I have to remind myself that in this life I have not made it this far to beat the living daylights out of a person that may very well deserve, no matter what comes my way I am determined to react in love and it may seem from time to time that I am bitter or angry. To those who have hurt me and caused me pain that is, and that's absolutely fine but it's also about as false as a counterfeit 100 dollar bill, because I love everyone and everything, I have a great love in my heart for those that are lost, for my friends, for those that pass away that I don't even know, I have a great love and sorrow for them.
And If it seems that I'm bitter or angry in anyway then let me clarify what it is that I am actually feeling deep inside, I am feeling hurt, crushed, as if someone took me and tore me apart limb from limb, devastated, broken to pieces and outright shattered by some of the events that have gone on in the years gone by. I am terribly upset that something like this could ever happen again after I so willingly gave so much of my trust back again, however, no matter how bad it gets, I will let the devil know this, I REFUSE to get angry, I REFUSE to hate, I REFUSE to be consumed by bitterness and I REFUSE to let it break me, it will make me.
Be Better Not Bitter –
It's not easy, it's hard actually. But I will continue to do what I have always done, emotionally I will continue to make the best of it and I will continue to be the better person instead of the 'bitter' person, because it's easy to be bitter, anyone can be filled with hate and anger, but it's hard to be kind and loving even if you feel as though you can't possibly be kind to one more person – it's hard. Yet so right, nothing right ever comes easy, the good things are always gonna be a little bit harder or even much harder, because the good path is that much harder to come by.
People wonder why it's so hard to be good, why life is a living hell for the Christian, one way I like to look at that is because it's a lot harder to find an honest person then it is to find a lying no good for nothing scumbag, that liar is no threat to the enemy, but an honest Christian with a bright light for Christ. You my friend, you're a threat. As long as you're telling the truth and worshiping him with everything in you, fully committed to his word, his truth and his way, for as long as you do this you will constantly face attacks from the enemy, you'll be unhappy from time to time, miserable even, you might even grow some hate in your spirit. Hate for your job, hate for your life in general, maybe even hate for people around you, but be not overcome with evil – overcome evil with good my dear brethren.
For we wrestle not against flesh and blood, but against powers, against principalities, against spiritual wickedness in high places, so don't hate the person in your life that is causing you pain and turmoil. Don't even hate your job, don't even hate the enemy, don't let yourself be filled with hate in any kind of way at all, instead choose to be better, choose love.
In Conclusion:
Love is far more powerful than hate or anger ever could be, love can bring down hate, love can destroy the enemy in mere seconds, as matter of fact that is exactly what 'LOVE' did on the cross when Jesus shed his blood for us, love took us away from satan, we were hell bound, we were nearly there when out of nowhere the most miraculous event in all of history occurs. God himself in human form DIES for our sins so that we might be saved and so that we might be forgiven if we would only accept him as our Lord and savior, if we would only believe upon him, if we would only believe that he loved us so much that he was willing to die for us in such a horrific way.
If only.. Choose love today my friends, no matter how heartbroken or hurt it is that you may be and no matter how angry you are starting to feel about how it is that someone could harm you so badly, especially someone you loved dearly. No matter how bad the pain, choose to love, because choosing to love will help you move on quicker, it won't be easy, but it won't be impossible. Thanks for joining me today and I hope that you leave greatly encouraged in all your spirit, and I hope you be uplifted as well.
Until next time…
SHALOM –