WOW, 2015 already, it just amazes me!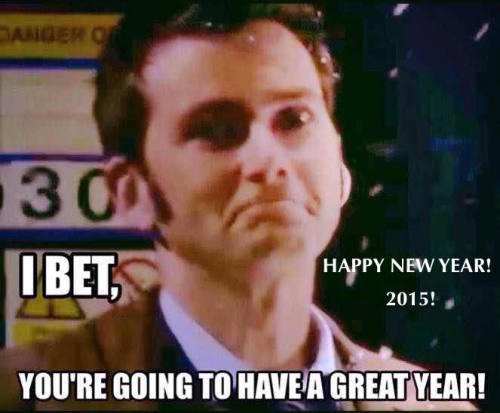 (Only Whovians will understand the photo) 
Doesn't it you? Time, time is something that is here, yet it isn't, one minute something is one way and the next minute things are completely different.
It always amazes me how time changes things, the way it shapes people's lives, how it pushes us to move on, because the reality is when one life ends, life itself keeps on going.
I have seen many things happen this past year of 2014 starting early on in February when my grandpa had his first heart attack of the year, to May 17th the day my mom announced she was taking back the man my grandparents worked so hard to help her get away from.
To meeting my friends across the seas, In the U.K. and Australia from across the states to Wisconsin, California, Indiana, and the list could probably go on, even in Canada, so many people that I was able to meet and become friends with through the internet this year that certainly has made a good impact in my life as they are all remarkable and unique.
In October I met (the now new Governor of Texas) AG Greg Abbott who was out campaigning  for Governor at the time at a meet and greet in Tyler Texas! That's not all, I also was able to meet the one and only Chuck Norris! Now, Chuck Norris is someone that I have always admired since I was a little kid, being able to meet him in person was absolutely amazing.
Yes, looking back I now realize that there have been both good and bad events of chaos in this year especially when you get down to the nitty gritty, but isn't that the way all years are? Yet you don't necessarily ever know what a year may bring, you can never in a million years guess that out of heartache God will bring bliss and outright miracles into your life.
Miracles:
Yes, I said MIRACLES, I am a strong believer in "Miracles" because I have seen many of them placed upon mine and my family life throughout the years, if it wasn't for God's grace his sheer blessings and outright miracles in our life I don't know where we would be today, of course it did take much action on our part, we had to be faithful, we had to believe, we had to stand still and let God move.
And when you put your life into God's hands, what better place is there for it to be? When you rest assured in the assurance of his sufficient grace, that is when you will be able to conquer all that is thrown your way, I am ready for 2015, I know it will be a year that will most likely be filled with much adventure, trials, heartache, joy, peace, love,  forgiveness, and miracles.
They are all around us, Miracles, that is, both big and small, we just have to be willing to look for them.
When we can do that, THAT is when we will begin to see the bigger picture, I am still a very strong believer that everything happens for a reason and for a purpose, a good reason and a good purpose, sometimes it may become hard to understand what that purpose and reason really is and as matter of fact, we may never actually know in this life time, but all we can do is trust God that in the end it'll all work out.
Embrace 2015!
Welcome this year with open arms my friends, be not afraid, be bold, be courageous, share the truth in love with BOLDNESS. It CAN be done, I have seen it, I have done it.
Make this a year that counts for something, quit loving people into hell and actually love them with a real love, they may not always listen, they may not always agree with you but that's fine it's not about what they think it's about what YOU do.
It is our individual choices the way WE live OUR lives that MAKE the difference.  – Glenn Beck
Again, I don't know if that actually is a GB quote but that's where I heard it from, and it's true my friends, we are responsible and accountable to God for our own actions, we must share the gospel in truth with love and BOLDNESS.
My aim for this year is to do this myself and encourage others to do this as well, to share:
 TRUTH (IN) – LOVE (WITH) – BOLDNESS.
  As I have said many, many, MANY times it CAN be done, WE just have to DO it.
 HAPPY NEW YEAR EVERYONE! 
 Shalom –