Greetings again my webanite friends, good morning, good evening, good afternoon whatever time it is, as one of my favorite youtubers would say, (whom I'll get to later) 'GoodAfterNorning People!'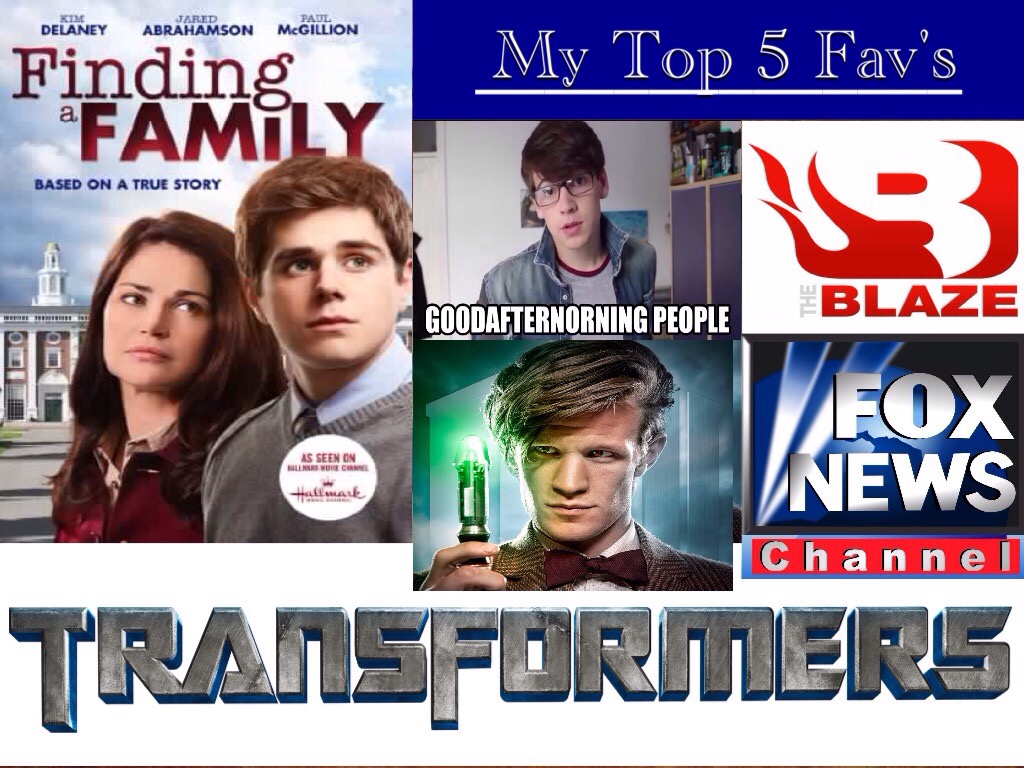 Welcome again to my humble abode all of you peoples, today I want to talk about some of my most favorite things to do when I'm not writing about God, the bible, family, friends, veterans or our flag, I am likely to be found watching TV or Movies, or youtube, you see I LOVE a good TV show or a good movie.
Let's begin shall we?
5: Political News (Such as Fox And The Blaze) 
I find it very important to make time to inform myself on what's going on in our world today and for the most part I believe Fox News is a very good resource for that and I really trust The Blaze because it has never seemed to fail in telling the truth when it comes down to the most serious issues, but I don't just take anyone's word for it and I don't encourage anyone else to do such a thing either, I encourage everyone that it is important not only to watch this news but to do research on our own to make sure we have the facts straight BEFORE we go blurting our own opinions.
4: Family Drama TV & Movies 
Very often I can be found watching 'Drama's' when I went to acting camp back in 2011 I surprised my acting instructor a lot because she suspected that I would be like a comedian type and I also shocked a few of my classmates as well and they didn't take me for the 'drama' type of person however I am. And a few of my favorites are 7th Heaven for a TV show and for a movie I really enjoyed watching a movie called "Finding A Family."
It's about this young boy that happens to have this mother who suffered terrible brain damage from a car accident and it's not that she doesn't want to be a mother she just isn't mentally able to anymore, the kid eventually gets stuck in foster care and has to make a hard decision to get himself emancipated from his mother which he didn't want to do but had no other choice, he get's adopted into this great family that doesn't just want to foster him they want him to know he will always be part of the family and in some ways I can relate to that because of my personal experiences with  my own mom, it is such a sweet movie that I highly recommend watching.
3: TransFormers (Robot's In Disguise) 
I have always loved watching this and I even remember vaguely watching some of the originals and currently I am watching a newer series that I don't find as baby-ish as some of them are these days it's called "TransFormers Prime" it's awesome, and I really believe it has a lot of great ethical values implied in it as well, and personally for a show about aliens I don't think it could be anymore of an American nature than it is, the bases of the show comes from the leader of the AutoBots whose name is 'Optimus Prime' what a leader, I think he'd be an awesome President because his core belief is that "Freedom Is the right of all sentient beings." Amazing.
2: THE Jake Dudman Youtuber
Ok, to be clear he's only called 'Jake Dudman' but I like to call him THE-Jake Dudman simply for the fact that he is the only one like him in this entire world and he is great really, he's not really Christian based but of course neither is TransFormers or my next favorite topic, he's a British Youtuber from 'YorkShire' I believe I guess he'll correct me if I'm wrong but I think I heard him mention that a few times in his videos, he loves something called 'Fredo's"
At least I think that's how those things are spelled, I don't even know what they are, I looked them up once and even though we don't have them here in America I think that we might have an item like those. For a YouTuber that's pretty popular even here among American youth I have to say that one of my main reasons for watching his videos is because he keeps them clean and as a Christian that is always seeking good wholesome clean entertainment I am proud In knowing that THE-Jake-Dudman keeps his videos squeaky clean it's something that I can respect.
He's also who I quoted in the beginning of this post, he loves to blurt out his famous catchphrase 'GoodAfterNorning' when he begins his videos which are found HERE. He's also got a great heart which I found out awhile back when he decided to raise money for a children's cancer cause, that is definitely something else very noble to recognize, and I'm always noticing acts of kindness like no one else can, blessings to Jake today.
1: Doctor Who – The Doctor 
This is one of my favorite shows it's filled with such awe and amazement, I had started watching it back in late August of 2014 and I just wanted to check it out, my Grandpa and Uncle had watched it since it relaunched back in 05′ I started it from season 2 and I believe I became a fan at the third episode of that season after that I got up every day before 7AM (because it came on early in the morning on BBCA) and I looked forward to a  great adventure.
One thing I found out after finally reaching and getting all the way through the 8th season is how incredibly Pro-Life the Doctor really is and while a lot of the liberal audience that watches him is probably going to  deny this I have to say that given evidence what else could he be, in multiple cases he has proven to value life of all species even his enemies, he is completely against any  genocide and in a recent episode with the 12th Doctor (Peter Capaldi) he even proved to us that he values the life of the unborn, the episode was called "Kill The Moon"
I think it's pretty incredible, the Doctor is a great character and hero for the British people and around the world, there are many good messages in each show and it's overall family friendly which is another thing I like about it, you can't hardly watch any other show without seeing a reference of some kind and that is just great.
In Conclusion:
Well the conclusion of this post will be very short, though I'm pretty sure that I say this every time now don't I? I guess we can leave with what we have learned from my favorite things to do when I am not writing these blog posts or singing or whatever else besides just resting.
Do your own research.
Family values matter.
Freedom is the right of every sentient being.
There are still clean sources of entertainment in this world.
Life matters.
I hope that today's post has been some kind of encouragement to you and who knows if you want perhaps you can go check out some of the movies and shows that I have mentioned today to see for yourself how great they really are, but everyone's taste is different and that is just fine.
I most certainly didn't intend to write this much for this particular post, but whatever works right?
Until next time…
SHALOM –