And so it began nearly two years ago, the beginning of another Christmas Eve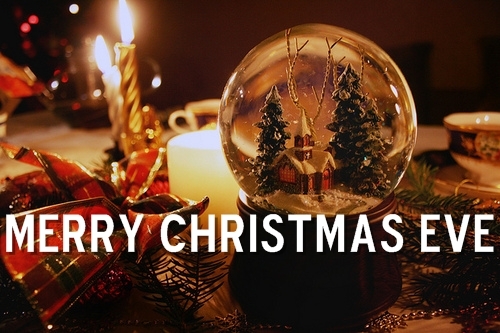 I'm pretty sure I started that morning with some type of exercise, maybe even a walk as you know temperatures are fairly warm in East Texas even around this time of year,  when I got home there were cookies to be made, chicken salad to be prepared and pecan pies to be made as well!It all started like any other day, quiet, peaceful, calm and mystical as you could just feel the Christmas magic all around you in the air. The Christmas tree was glowing from it's many strands of lights and beads that were carefully wrapped around it and presents were neatly stacked at the bottom, things were Christmas-y indeed.
I began making the pecan pies, I believe this was the first year I had ever attempted to make one on my own (and I'm not much of a baker to begin with) nevertheless I embarked on this mystical baking journey and set out to make two homemade pecan pies from our very own pecans right here on our own Texas abode!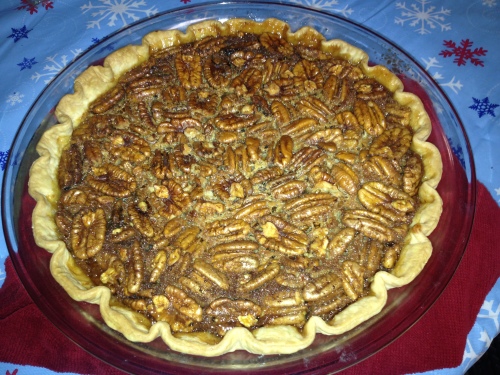 However I'm pretty sure that they flopped the first time, but we intended on eating them anyways because we can never let anything go to waste (that is considering we have  done without things in the past) so we went on to place them aside to cool and supposedly "set up" (which they would have done, I just hadn't baked them properly).
Time For A Present!
Usually we wait until we get back from looking at Christmas lights to do this but somehow this time was different and it was decided that we could open "one" present on Christmas Eve that is usual tradition in our home and I'm sure many other homes around the world as well, now, this was the night that I happened to obtained my very first condenser microphone ever for my radio show!
I surely have put it to good use over the past two years, I think, and I believe that I have gotten more used to it and better even, having bought two real XLR cable condenser microphones this year I mainly use them now, but I still from time to time use my very first USB as it's just easier to set up for short projects and it can compete pretty well with my new professional equipment.
And of course it will always be my first microphone that I will always cherish and keep with me, who knows, maybe one day It'll mean something to someone else besides me you think? You never can know I suppose…
Well Enough of my rambling, onto the rest of our evening.
The Return Home:
After gazing at Christmas lights for the past couple of hours (which happens to be a family tradition of ours) we then decided to make our journey home, what we didn't know is the surprise that would be awaiting us when we got there.
It just so happens my friends that I forgot to mention that not too long before the holidays my grandparents had picked up this rescue dog on their way back from a funeral one day in North of Arkansas I believe, a black German Shepherd (at the time named Titan but we renamed him Samson) he had been mistreated by some old lady that kept him in a cage and starved him when he was a puppy.
Something we had forgotten that you'll understand here in just a moment, a police officer had took him in and posted an ad that he needed to get him to a good family and sure enough my grandparents just all of a sudden decided to go pick him up that day.
It was quite frustrating for me too because I had worked all day on cleaning the house and all of a sudden they barge through the door and I get pounced on by a dog licking my face like a wild maniac, oh well, anyways…
Onto Christmas Eve…
It just so happens that we had put him in a cage not thinking much of it, it was a very big cage and we knew we would be home soon enough, we really didn't think it could be that bad but sure enough when we returned home, well…
Let's just say it wasn't too pretty, he ripped out of that sucker…
(Photo Below)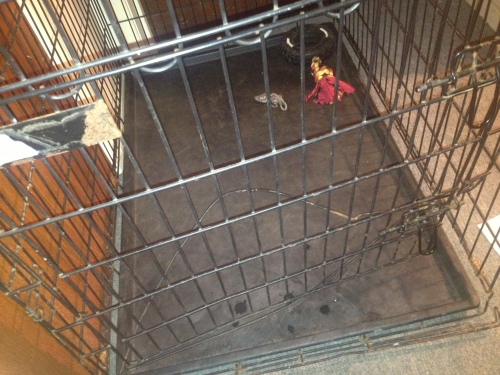 We had gotten my grandpa donuts for Christmas that year and that is what he opened on Christmas eve, the dog just so happened to get into some of them, he also opened a few other presents as well that we had wrapped for him, (naughty little booger) he also managed to get into the mini beef franks we had planned for pigs in a blanket on Christmas day or in this case it would of been (Cows in a blanket) and he of course got into those beautiful pecan pies I had made.
But get this, he didn't just eat one whole pie, he had to eat half of each one! We were all very frustrated indeed, but we knew it probably wasn't such a good idea to put him in a cage given his past experiences, we just didn't want him getting into the food (which he happened to do anyways)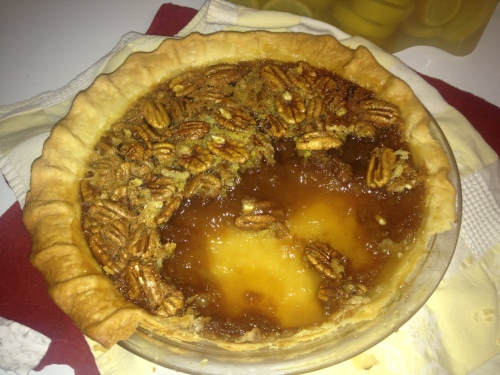 Needless to say that was the last day he spent in the house, he made a pretty good house dog for awhile and even is house trained, he would go to the door when he needed to go out and I don't believe he ever gave us any trouble there unless of course we didn't pay attention to his plea to go out, he's got short hair so his shedding wasn't too bad but it was still a bit of a task to maintain.
However after we came home to that "Christmas Eve Catastrophe" we decided it was best he stay out side from then on, who could blame us, and who could really blame the dog? It was best for everyone I believe and he still loves us just as much as he did before.
With that said, I hope you all have  a very Merry Christmas eve and an even better Christmas day! My family went out Christmas light looking early this year, yesterday so I suppose we will be staying in tonight enjoying the magic that is Christmas Eve.
Until next time…
SHALOM –