Today I'd like to talk to you about caring, sharing, and of course BEING A LIGHT! I believe that you can never talk too much about being a witness and an example for God because the bible says that he doesn't just want us to go out and witness to others, he want's us to BE a witness!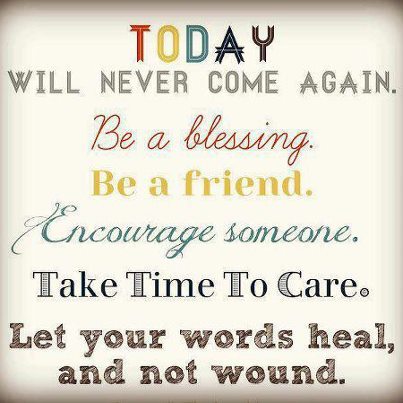 I'd been surfing the internet and found this picture, I thought it was neat. I'd like to talk to you about something that happened yesterday why my mom and I were at town. We were making our way to Wal-Mart when we came around this entering the parking lot and there was this elderly woman walking up that hill, it was cold, damp and raining out. It just made us all feel so bad, that was an awful sight to see. We hate it when we see something like that, but yeah I know in these times picking up someone can be scary.
Nevertheless mom turned around and asked the lady if she wanted a ride, in response she said since we were so sweet she guessed that she would go ahead and let us. She told us that she was just trying to see if she could remember how to get around and we made it back to her sons house, she began to thank my mother for the ride home and said that her family doesn't like it when she just takes off walking, they told her that she has dementia, she then proceeded to say –
"Well I'm not gonna let something like that keep me from living my life, I've always walked around everywhere, the streets all have names on them and I can get around just fine like I always have."
If only we could all have that kind of attitude, the determination to not let anything get in our way of what we want to do, our dreams and our goals, imagine what we could get accomplished if we had just one small percentage of faith in God like he has in us.
I decided to tell you this little story today, because it sure was something that warmed my heart and made me think of being a light in a cold dark world. Think about people, you can look the look all you want, you can talk the talk as long as you want as many times as you want, but if you aren't letting your light shine no matter where you are in life or what it is that your doing and if you aren't letting God's joy shine through you, then let me tell you. Your light is not shining to the glory of God.
If your at the grocery stores and look all dead, when others smile at you and you don't smile back at them or if others compliment you and you don't thank them or say something nice in return let me tell you people, your light isn't shining to the glory of God and to me that is keeping your light hid under a bushel!
It's not something that you can just pull out of your closest like it's your newest outfit, it's something you've gotta have on you all the time, not just in church but everywhere! Because what good is the church if the church is just a church? What good is the church people if the people are just church people? In the book of Matthew Jesus didn't say he came for the righteous or to sit with the righteous, he came for the sinners, he ate, drank and sat with the sinners, he told us to go out into the highways and hedges people and let our light SHINE!
"And be ye kind one to another, tenderhearted, forgiving one another, even as God for Christ's sake hath forgiven you."- Ephesians 4:32 K.J.V.
CARE
God bless y'all!
Sincerely,