Bold words for the Christian church today, in a church world that doesn't believe one has to change to be worthy of the kingdom of God, I can only imagine that these words are like fingernails on a chalkboard, as matter of fact it seems to me that all truth in the bible when it is spoken to today's church they react as if you just ran your fingernails down a school chalkboard, why? The truth hurts, that is why.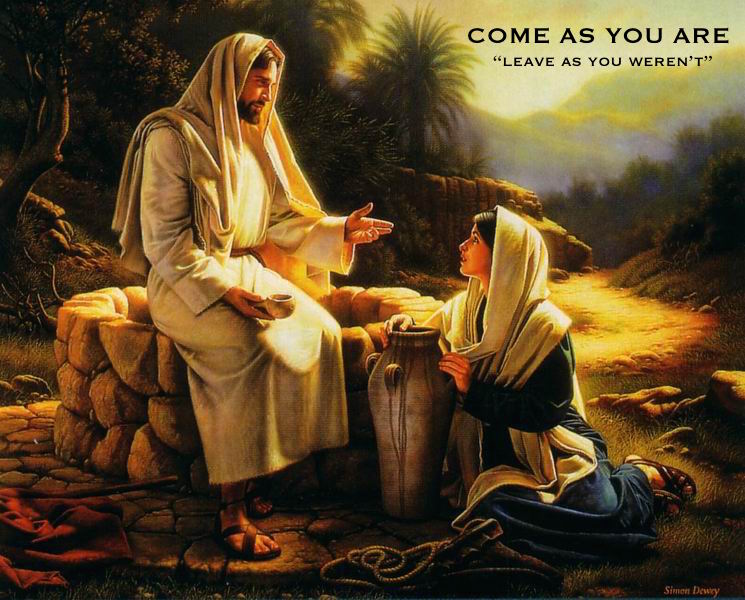 What is my purpose of today's post? The same purpose as any other post I've written, not to judge or condemn, oh no, I will spare you the biblical inclination where we do have a right to "righteously" judge others (especially our brethren) and I will just discuss my observations once again of the 'modern church'. I hope to make you think about the events going on around you so that you may begin to see just how wrong they really are, because they are really wrong and it is time for a big change in today's churches, though that might make some of you a little uncomfortable you will just have to deal with that feeling and figure out whether or not that feeling is from a fleshly judgement inflicted upon you by another human's opinion/belief (mine) or if it is inflicted upon you by the power and conviction of the Holy Ghost.
Every where in the bible, whether it was repentance of sins or being healed of some terrible disease or sickness that the person had come upon later in life or received at birth, we find that those people came to Christ in that vulnerable state, they came to him broken and they in their despair came to him seeking renewal, seeking healing, seeking… Transformation. They didn't want to leave Christ the same way that they came, they wanted to walk away from him as they weren't, and Christ didn't want them to leave as they came either, you see In many cases have mentioned that I believe God doesn't really accept us as we are, he accepts us as we are as he sees us in him, he sees us as he has already foreseen us and that is why he accepts us, he knows we are capable of greatness, if we would only allow him to come into our life and change it.
THE OLD MAN IS DEAD –
Many people in churches today however want to run 'Grace' into the ground and they don't understand that by doing this they are abusing the beautiful gift that God gave us, they are mocking the torture that he went through, they are mocking all the punishment and pain which he had to endure so that we could be saved and they do so without a single care at all, so it seems, we know that scripture tells us that in Christ we find salvation, free salvation, a gift, it isn't anything that we could ever pay for with our own works, but we know at the same time that we are to be transformed by the renewing of our mind, we are to put off the things of the old man.
We are to come to his alter as we are, and leave as we never were before.
Scripture Verses:
Therefore if any man be in Christ, he is a new creature: old things are passed away; behold, all things are become new. 2. Corinthians 5:17 K.J.V.


Knowing this, that our old man is crucified with him, that the body of sin might be destroyed, that henceforth we should not serve sin.

For he that is dead is freed from sin.

Now if we be dead with Christ, we believe that we shall also live with him:

Knowing that Christ being raised from the dead dieth no more; death hath no more dominion over him.

For in that he died, he died unto sin once: but in that he liveth, he liveth unto God.

Likewise reckon ye also yourselves to be dead indeed unto sin, but alive unto God through Jesus Christ our Lord.

Let not sin therefore reign in your mortal body, that ye should obey it in the lusts thereof.

Neither yield ye your members as instruments of unrighteousness unto sin: but yield yourselves unto God, as those that are alive from the dead, and your members as instruments of righteousness unto God.

For sin shall not have dominion over you: for ye are not under the law, but under grace. Romans 6:6 – 14 KJV

However, It appears to me that many people today seem to believe that change isn't necessary, transformation isn't needed, we can just simply "Come As We Are" and "Stay As We Are" but if that was this case then I have to ask the question most might be thinking when this is happening before us, "What then is the point of God?" if we can come as we are and never get any true change and there is never any type of sanctification process and separation from things of a worldly nature then WHAT. IS. THE. POINT. OF. GOD.? Perhaps the answer to that question would be this, God is a magically genie in a bottle that call upon to grant all of their wishes so that they can live the most rich and lavish lifestyle possible without ever facing any problems and cotton candy falls from the sky every evening around 5pm and the man dropping it is everyone's beloved 'pastor' Joel Osteen, wait a second… That doesn't sound right?
In Conclusion:
Without some type of 'good' 'holy' change then I have to say that God isn't in. I'm sorry, well actually, according to a blog post I wrote a few days ago, I'm not sorry. I'm sorry in a sense that you may be deceived, but I am not sorry for the truth of the matter, you see preachers are often spreading a message of 'love' 'prosperity' and it almost appears as if they are trying to advertise the board game (Candyland) now I don't know about you but I don't believe that Gods gospel truth and his church is 'candyland' I actually believe it is to be something more something far  greater than we can ever imagine and I don't believe that we are to be like sugary gum drops, that melts at the first sign of the sun, the heat.
But I believe that we are to be strong, courageous, bold and upholding his truth with all our might, we are to dedicate ourselves to him with everything in us, with every last fiber of our being and we cannot allow ourselves to be shaken, we cannot allow ourselves to be fooled by these lies of fluff and puff preaching. God doesn't make our lives easier, he makes our LIFE possible, God, grace, faith all of that is where we pull strength from to make it through another day, we were never promised easy from his word, we are not ever meant to live a rich life though if we were to come upon some fortune that wouldn't be a bad thing. But that should never be our goal. I understand if some want to find an easier way, because it can get hard times, but I don't understand how people could believe it.
People that have served God for years can turn away from everything they once believed, whether it being wearing skirts, make-up, pants watching TV whatever it is they used to brutally judge others for not wearing skirts, for wearing make-up, for wearing pants and for being a participant of 'Television' (or as some call it) "Hellevision" yet now they wear pants, shorts, make-up, watch all manner of truly sinful things on TV and somehow it is OK, for them. But let us be not deceived, whatever sin is, if we know to do good and then don't do it, then to us it IS sin. (James 4:17)
I hope that today's post has blessed you in someway and you made you face yourself and THINK.
SHALOM –