Surprise!!
I have never been able to get one over on my grandma. I can plan and plan and be as secretive as I possibly can – but still she finds out what is going on! Not a coincidence, though, when you live in the same house with her.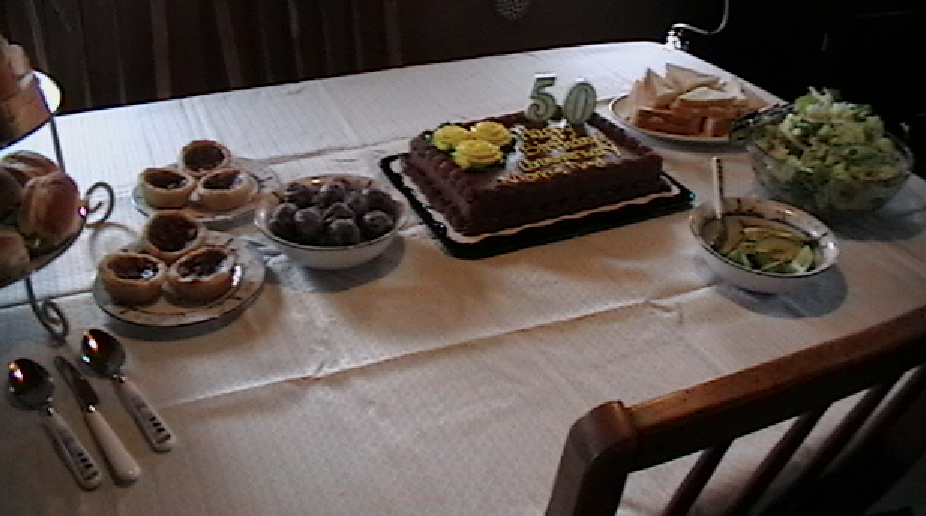 Today, I'd like to talk to you about the time I planned my grandma a surprise tea party while living on the Amish Farm back in Missouri. Look at that  –  this should be on Disney's TTI commercial! I like those. They are very unique and fun to watch. Have you ever seen one? They are great! Anyway, how about we get back to the day when I had this big great tea party surprise for my grandma on our Amish Farm.
I had planned this months in advance. About two weeks before my grandma's birthday/anniversary (my grandparents were married on my grandma's birthday), I had my mom buy some bread, tuna and miracle whip to make the sandwiches for the party. If I remember correctly, I made egg salad and tuna salad sandwiches. The egg salad was on those mini sub buns and the tuna on the regular white bread. Also there were mini pecan pies, doughnut holes, and a big salad with sliced avocado to go on top! Am I making you hungry yet?
Well, I'm not even done with the blog post yet, which is very different from my usual posts I know. But I'll find a way to fit something  motivational and encouraging in here somewhere – you'll see! Just hang on and follow the story: my grandparents were going to be gone on the actual day so I had to have the party a little earlier. It was the end of March and my uncle, mom and me went to town. My grandparents were both in the pasture trying to make a place to live for these goats they had went and bought.
I had already told my grandpa about the surprise so that's why he was trying to keep her out of the house. When we got back is when the real work began! I was rushing around like a maniac to pull this off. I was chopping onions, opening diced tomatoes and mixing like mad, having to get both tables set as the one in the picture happens to be our kitchen table.
Here's A Photo Of The Dining Table: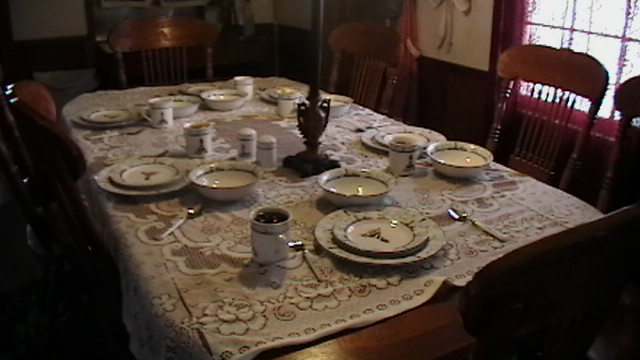 I threw all this together on the same day trying my best to get it done before my grandma got back in the house and saw it. My grandpa was still trying to keep her from coming in, best that he could. At this point, all of the food was still left to be prepared and If I remember right, these dishes had to be washed because they had just been unpacked. So not only was I throwing a surprise party for my grandma, we had also just moved and all our stuff was packed and so I had to go digging up stuff to make all this right, had to buy the table cloth for the other table.
Well it turns out it wasn't much of a surprise I was almost finished but not quite when my grandma busted in the house looking for a piece of paper to write something down on as she was on the phone to somebody. When I first found out she had already came in, I got upset.
My grandpa was trying his best to keep her outside but I guess she got to the door before him. He said he turned around and she was gone! Guess I'm not ever gonna be able to pull one over on her. Still today, even if I get up on her birthday/anniversary to make them their breakfast, it doesn't matter how early I get up she still gets up before I can have it ready. I'm like "Your not supposed to be up at this time!"
I hope you enjoyed today's blog post. Maybe somebody needs a surprise from you? It doesn't have to be a big ole' party – although if that is what you see fit is needed then so be it! But it could just as easily be just a small act of kindness or a kind gesture toward another person. It doesn't even have to be someone you know. As I said, everybody needs kindness. Everybody needs love. We need to share that  the world needs to be surprised with someone loving and kind.
God bless y'all!
Sincerely,