People Are Still Nice… Nice Indeed.
What an interesting week, huh? Only two more weeks until Christmas! So exciting isn't it? You know, let's focus for a minute about why I titled this blog post what I did…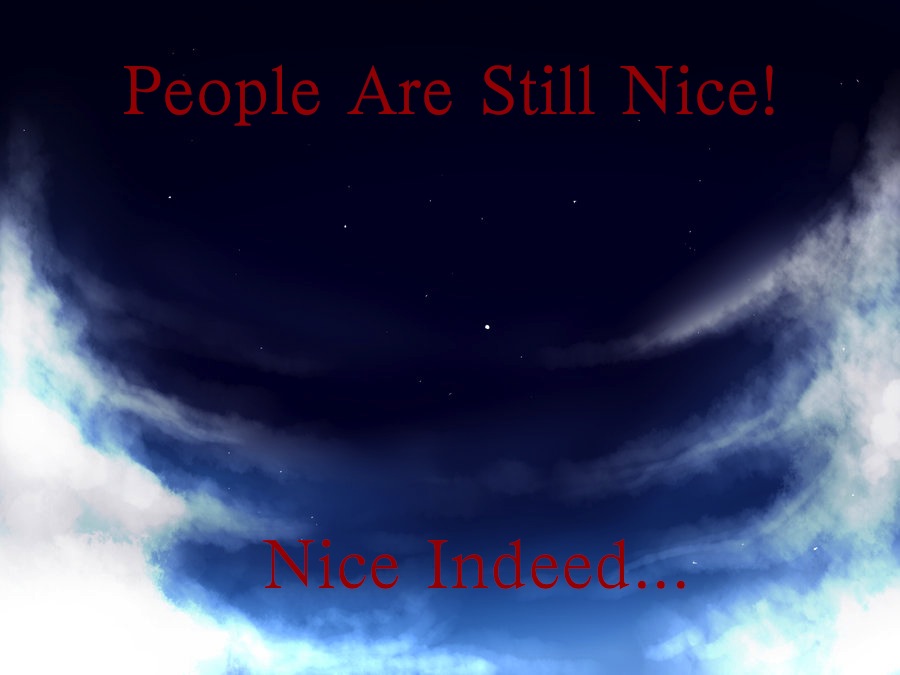 Over the week, I got reconnected with a guy that I once met nearly FOUR years ago! Now, let me go into small detail about what point in my life that I was in when this meeting occurred.
It was during the time not long after my mom had left me and my family. As I was very devastated and had pretty much lost all hope in humanity, I still continued to move forward and to trust that God would take care of things and that he knew exactly what he was doing.
I joined the Boy Scouts wonderful association and I respect them all very much. On one Fall evening, I was to go with some members of my very small troop to this scouting event held by an elderly blacksmith and former Boy Scout. At this event, we were taught how to make knives and tomahawks! It was pretty cool. But what was even cooler to me at this event was this guy who was from another troop. He used to be a part of our troop but transferred to another not too far from the town our's was located in.
At that point in my life, I didn't have many friends. Never really had many friends actually and most people even my cousins and other relatives can just be down right mean and cruel – so I wasn't too social with people, kept to myself, and just tried to do what needed to be done.
But, when someone's as nice as my fellow scout Bryson Grabher is… It makes things a little different for me.  I take very kindly when strangers our kind to me. It just gives me hope, because…. Why be kind to someone you've never met? That means that there is hope for the world and that means that people are still nice. Very nice indeed.
I find myself finding more and more nice people with each passing day. People that aren't just 'nice' but deep down inside they have something very special about them, something unique and wonderful. There are many people out there like that. And I'm proud to call some of those people my family, my friends, and acquaintances.
After meeting with Bryson, I tried to get connected with him, but… He wasn't on Facebook at the time and I never really seen him again. I find it quite funny how it is that we lived in the same town almost two years after the scouting event and never ran across each other again. Interesting how that works, right?
Well, I'm thrilled that over the week I got the opportunity to connect with him again and I believe it's safe to say that my new friend Bryson is one of those people who are very nice indeed with something special about them. We may not always fit in with the crowd, but sometimes as Martha Stewart would say "It's a good thing" because sometimes…
THE CROWD
These days isn't something that people like Bryson, myself, and so many other very nice people out there should be in. I'm glad he continues to be his same, very nice self and doesn't just follow in other footsteps of other kids his age. He doesn't look at life and say: "Well, so many other kids are bad  in today's world that they ruin it if I try to be nice at all and everyone will suspect I'm just like them so why try?" No, instead he goes against all that and strives to be better person, a kind person and a nice person.
Just another person out there that is proof of two very crazy cliches! All Kids these days are bad, all people are bad!
But people! That just isn't true! So many people out there are incredibly exceptionally amazingly kind, nice and world changing people. The same goes for kids of all ages.
I'm proud to have met another one of those people and glad I can call them a friend. Kudo's to you, Bryson!
So in conclusion of today's blog post, I would just like this to be a reminder and encouragement to you to not give up just yet on people. Because there is hope. Always.
God Bless Y'all!
Sincerely,