Merry Christmas Eve!
Hello, everyone – and Merry Christmas eve! I hope it is a very merry one for you this day, this hour and this very minute you are reading this very post about this very Merry Christmas Eve!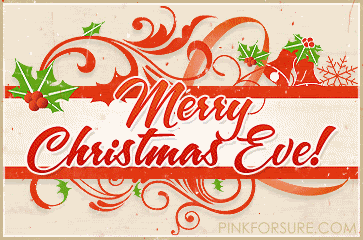 Who is excited about this Christmas!? Better yet, who is excited about the new year? Spending this time should be about love, kindness, sharing, giving and mending. It is very important that we begin practicing these good ole' traditions more and more – no matter what! Especially since this world is turning into a dark evil and horrible little hole more and more that people can fall in to and seem to never get out of no matter how hard it is that they try.
But there most definitely is a way to get out of it! When we quit letting things like money, nice things, issues of the world and materialistic things control us. When we stop and quit letting those things revolve around our life and focus on what the good is that we have in life and in CHRISTmas then we can learn to live our lives and get out of that deep, dark hole the world really is.
There isn't any thing pretty about the world, not at all. But there can be a whole lot of things beautiful about the 'people' in the world. Because none of us belong here; I have talked about this before. We all have a choice to make. The choice we make is left entirely up to us and us alone…
I hope someone out there – a lot of someones – have found that they can live their life out of this dark hole that this world really is. It isn't that Christians go out and try to 'recruit' people to Christ more on Christmas than the rest of the year. Though it may seem that way and can be very possible some do! It is just that during the time of his birth is a whole lot easier for people to find him.
God bless y'all and MERRY CHRISTMAS EVE!
Sincerely,