Liars!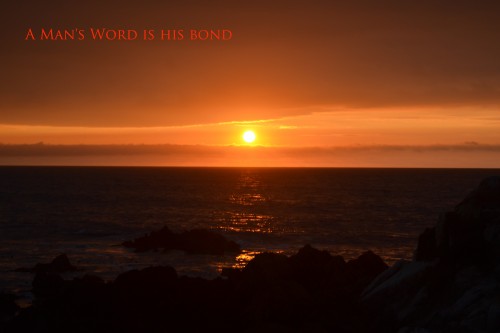 Today I'd like to talk to you about LYING! And what it means these days to people "Keeping Their Word" and what it used to mean.
My grandparents have always taught me that your word is your bond. If you don't keep your word to someone then you won't be very respected.
Lot's of people today though, and throughout all my life have never believed the same principals my grandparents taught me. Not even most church going people! Why? Why is it that people won't keep their word? Why is it that when they say something to you that a lot of times they never seem to come through?
Well, there are many excuses for that question:
Something else came up that I couldn't control
It slipped my mind I completely forgot
I thought it was another time
The list goes on and on and on…
I was reading in this book written by C.S. Lewis that my best friend ordered for me. In the first chapter he talks about the natural law in our hearts. He discusses how people are constantly haunted by the desire to do what is right. People invariably defend their actions by arguing that those actions do not really contradict a basic standard of behavior, or that the standard was violated for good reasons. There again – excuses from people! Everyone knows deep in their heart, the difference between right and wrong but because of so many excuses in this world they fall back on those and let it slide and think in their mind that they really haven't done anything wrong.
Oh, but how they are so wrong! It affects everything, yet people still make promises and end up not being able to keep them, but like in "Mere Christianity" by C.S. Lewis when the time comes for you to keep your word to them if you don't normally no matter what the circumstance for you was they become furious because you just lied to them and you broke your promise. So where does the lies stop? How do you keep your promise to someone who can never keep their promise to you? Why would you keep your word to someone who is always making excuses about not being able to keep their word to you?
The Bible Says:  
"But whoso keepeth his word, in him verily is the love of God perfected: hereby know we that we are in him."- 1 John 2:5 K.J.V.
There you have it: a man that keeps his word in him is the LOVE of GOD. Does that mean that those who don't keep there word doesn't have the love of God in them? Not entirely, but maybe it just means they don't have as much of it as they should have. Someone who has a great amount of God's love in them should constantly be striving to be more like him. And how can we be more like God? Living a clean, holy and righteous life. Do you think in a life like that there is, lying, word-breaking, excuses? I think not. It doesn't matter what comes up or happens. If it isn't something vitally important then it's NOT so important that you can just throw away the word you gave to someone else.
BE RESPECTED! NOT DISHONORED.
"An honest man is a respected man"– James Fickle
Have a blessed day people, and remember: your word is your bond. When you make a promise to someone that's your word and if you break that word your breaking your bond. If you break your bond then it means your word is no good and neither are you. You are not to be trusted or dealt with. This is how people believed back in the old days, but today people are too lazy to care – about anything.
God bless y'all!
Sincerely,