I Can Respect Honesty
I was sitting at my desk trying to think of something to write when out of nowhere the title above comes to my mind so now I'm thinking all there is to do now is write the post about being able to respect honesty, because you see, even if you do not agree with someone whether it be politically or religiously can't we at least respect each other for actually standing firm in our beliefs?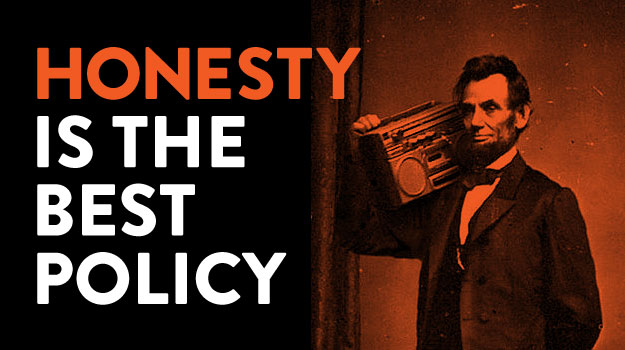 You see, I myself personally have no problem with people that believe differently then me, it doesn't bother me at all like it may others out there and the reason for that is because I can respect people that at least believe what it is that they say they believe, today we see there is so many people out there that do not practice what they preach. Whether they be Republicans, Democrats, Christians, Atheists, whatever it is that they choose to call themselves and however it is that they might believe, there are hypocrites in all areas of life and lately it seems that liberals can be the biggest hypocrites of them all, but that is for another topic all together, the reason for this however is because you often hear the words.
Equality, Justice, Diversity, Tolerance, Acceptance and blah, blah, blah. Liberals can talk a pretty good talk but they can't really walk what they preach without tripping over their untied shoelaces, OK, OK. The jokes about liberals are over now, moving on to my next point, you see my friends, I actually believe in this thing called 'equality' I believe in 'diversity' I even believe in tolerance and acceptance with a few key significant details. I won't accept the sin that is 'Homosexuality' just as I won't accept any other sin, I won't tolerate intolerance to my strong held religious beliefs and I will not stop or apologize for what I believe because this is what you get, you can change the law and change the rules, you can even rewrite the constitution, but you won't change or break this American Spirit.
Just Be Real –
There are many people that I don't always agree with and that is just fine, but just because you don't agree with someone does not mean that you can't be their friend, so many times people let themselves believe that they can't be friends with someone if they don't have their same set of views. You might have some Hollywood Liberal Democrat like Ben Affleck saying that he would never watch a movie with an Republican Actor in it because he doesn't think that, that person would be friends with him, which by the way, I think that is completely and ridiculously absurd in it's entirety. That is the problem, the problem is that people will either keep their beliefs and opinions to themselves to try and maintain some type of friendship or they will not associate at all with anyone that doesn't believe exactly like them, and I find it hard to believe that in a day and age as this segregation is still happening in our country and it's pathetic.
You know what I want to see? I don't care if someone agrees, disagrees or whatever, I want to see people accept Jesus Christ as the one true God of their life, YES. But I can't make them, and if they don't that's fine, because all we can do as Christians is present the Gospel and pray that their eyes will be opened to the truth, what I want most of all though is to see people being more honest with each other in all manner of ways, the good, the bad and the ugly. All of it, I want to see people tell each other what they actually think and not have any problem with discussing differences with each other, I want people to communicate instead of just brushing each other off or trying to shut each other down, I want people to just be real with one another.
Stop putting on this act and be real, practice what you say that you believe and mean what you say, don't tell me one thing and then turn around and do something completely different and I'll try to be the same, we are all human and we are all faulty in our ways and we are all capable of making mistakes, but we must try harder to be better.
In Conclusion:
Respect most certainly has to be earned, and you don't even have to respect a person or everything about a person to just respect their true and genuine honesty with you, we know that honesty is something to be desired in today's world whether you are a Christian or not if you look back in time you will see that even people that didn't go to church were much more honest and trustworthy then they are today – and I can't help but wonder why that is? Is it because we as a Christian people failed to be a better example in someway, or is it because we allowed ourselves to grow weak in what we preach? I believe it's all of it and much more and I've said this many times in the past and it isn't too popular of a statement but nevertheless it is what I genuinely believe and I pray that you will agree with me because if you do then that means there is hope for change.
I believe that the church is to blame for whatever problems going on in our country today, I believe that they allowed sin to come into the very house of God and it contaminated it and crippled the people that once stood strong and bold on his word, you see there is nothing at all wrong with sinners coming in the house of God, but you can't allow yourselves to be caught with your guard down and I believe that is  what the church has done over the years, little by little they have continually let their guard down until there really isn't one held up at all anymore. Sinners would walk into the house of God and they wouldn't be convicted by the people's judgmental looks, rather they would be convicted of the power of the Holy Ghost, and this is what we need to get back to my dear brothers and sisters.
I thank you for reading today's post, I hope that you have a blessed weekend with blessings beyond your wildest imaginations, God is in fact looking out for you and he will never leave nor forsake you.
Until next time…
SHALOM –