For Christian Teens!
My blog for today will be somewhat different as I am aiming towards reaching the teen followers of Christ. For Christian Teens is a website I ran across a few days ago that was created by two Christian teens from England! That's right – the United Kingdom! It's an amazing website and you should go have a look. You won't be sorry!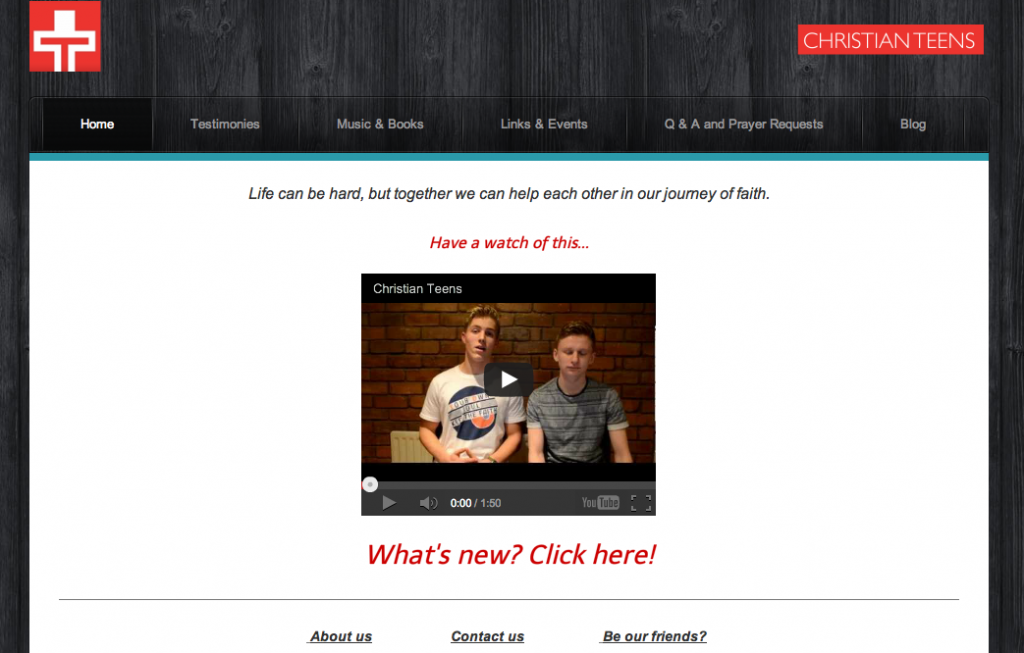 Founder of this site (Sam Donaldson) and Co-Founder (Luke Lonergan) are just two young Christian fellows who have a heart and desire for God's word with a passion burning deep within them to help support other Christian teens through their website – just for Christian Teens!
The name says it all, really. They focus on the scripture in 1 Timothy 4:12 where it talks about not letting anyone despise you because you are young, but to set an example in charity, in your spirit, in your faith and in purity!
"Let no man despise thy youth; but be thou an example of the believers, in word, in conversation, in charity, in spirit, in faith, in purity."- 1 Timothy 4:28 K.J.V.
Roaming youtube one day for some reason or another I decided to type in the search link "Christian Teens". Now I really don't know what possessed me to type in these words. I guess that I was just bored. But after searching through many videos (which I don't even remember what they were about) I glanced down in the corner of my screen and noticed a video titled literally "Christian Teens". Why it took me forever to find the video that was titled exactly what I was searching for, I don't know. But seeing that video in the corner of my screen, I decided to click on it and check it out. After watching it, I became really excited and knew that this was something planned by God!
It really excited me that someone out there had the idea to create a website FOR CHRISTIAN TEENS – for teens, by teens. It doesn't get better than that, now does it? In today's day and time, we are responsible for the future! We hold in our hands power; we may not realize it but we do.
Some of us may let our power go to waste by just being completely lazy and hiding our lights under a bushel. Other's might use their power in an inappropriate way. But I choose to use my power in an uplifting way and I choose to use the power that given to me by God in a way that will change the world for a good purpose – not a bad purpose.
SPREAD IT!
This website is a great way for every Christian teen out there (not just in the UK). I mean look at me: roaming youtube one day like a gazillion miles from the UK and I found this site! It's surely something to get in to and help get it started up and going -together! We are all in this together!
The scripture says that we are the body of Christ. This website, created by Sam, is a perfect place for us to go and share uplifting words that could help others get out of the dumps and to be an encouragement for them, to give your testimony and possibly have a chance to give others hope as well.
So spread the news of this wonderful site and become a part of it today. Together we can make a difference! Each and every single one of us have the ability to make a difference – maybe even a worldwide  difference. Alone, we are powerless to do these things. Without God nothing is possible. But with God, all things are possible!
I hope that you check them out, and that you enjoy it with the video!
I have written a blog post for their website. You'll have to go have a look at that on "For Christian Teens". Also, you'll have to follow them on Twitter and check out their Facebook as well. Go check those out and share some love!
God bless y'all!
Sincerely,