Feeling Discouraged?
In this day and time I know for many Christians, it is often easy for us to become saddened, depressed, discouraged, emotionally, physically, mentally and just spiritually drained. But here is where the good comes in, because think for one second if you will. Why is it that you are sad? What is making you feel discouraged? Is there a reason? Well if you have a reason (whatever it may be), God has laid this on my heart to remind you: Do not fret, for GOD is in control – and he is taking care of business!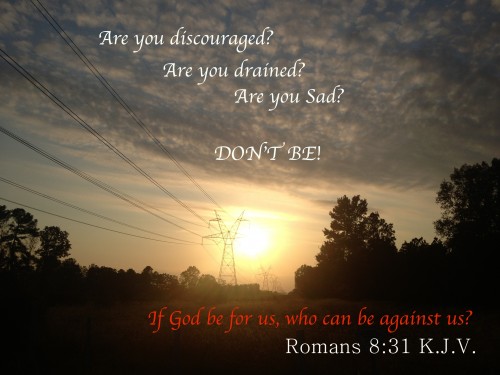 If God is for us, people, who can be against us? AMEN! Yesterday I talked about standing your ground, not backing down and not letting others break ya, but letting them help to make ya!
Now onto what might come from those who oppress God's people on a day-to-day basis. You've gotta keep your head high and remember the word that says God is for us! I talk constantly about him being on the throne "Taking Care Of Business" – and oh, he is! I know when we are going through a difficult situation in life we may question God as to why we would have to endure such an event.
"I undertand the feeling of not knowing, I understand the hurt that you must feel, but you have gotta keep strong, keep hanging in there, your not done fighting yet. Pick a side and stick with it."– Nathan Tune
As hard as it may seem, we have to believe in God and trust him to lead us through the difficult time in our life, and he will. I know that he has for my family every time, even when it seemed so dark we could still see the light and when God moves he MOVES people let me tell you that!
The quote above comes from an email that my best friend sent me during my struggles with my mom. Those words have stuck with me every since and I use them now to encourage others in many different ways.
OVERCOME
Hold on with all your might, no matter how bad the situation may seem. Rise through the fight and OVERCOME! Just keep on saying that a blessing is on it's way. Believe and you will see; have faith and it will be. Triumph over this hard time in your life and rise above with great love. I'm sure you've had many other hard times in your life – and I'm sure you have more blessings then problems right now. Be strong in the Lord, never give up hope. You're gonna do great things. I already know!
If you know deep in your heart that it's not your first time down this hard rough road then you know that God made us to stand BOLD! Just keep on believing, keep strong. You're not done fighting yet, people, so remember that: pick a side and stick with it!
God is right there for you. Don't ever think that he's left you. These bad things that are happening to you now will all have a meaning to them in due time. So do not be discouraged, afraid, depressed or saddened. I know it's hard not to be, I can often get discouraged myself, but if there's ever a broken soul out there it needs God's people to be there for them. And that's just what who we are!
WE ARE THE CHILDREN OF GOD!
He has gone before us and he KNOWS WHAT HE'S DOING!
God bless y'all!
Sincerely,