Children & The Corn
Don't get it twisted just yet my friends, at least listen to what I have to say first. However, before I get into that, why not a short word of inspiration? When people tell you that you can't, show them that you can. When they tell you that you won't, show them that you most definitely will and lastly. If people tell you that you will never, show them that you will never let them be right no matter what it takes.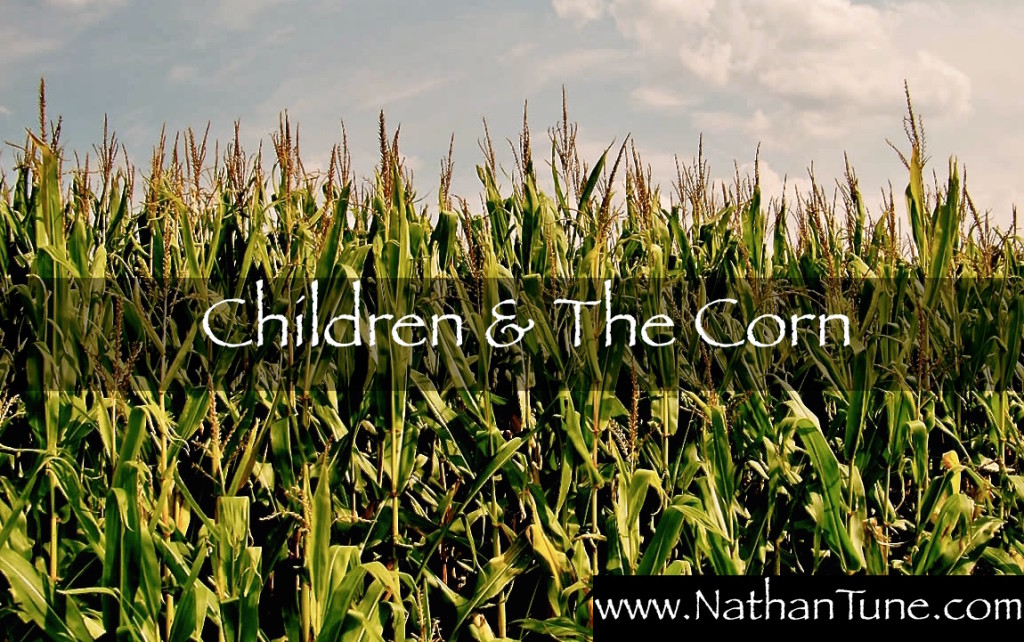 A long time ago, back in the day. When I was but a wee lil' lad, I did something really stupid. Haven't we all? It was the summer of the year 2000 something (which we are still living in, for anyone confused) and I had just went outside to play with another member of my family and a neighbor friend that we had invited over, my grandma and my mom were gone and my grandpa was the only left at home to watch us. He was in his bedroom, most likely taking a nap. When all of a sudden, we decided to go and play in the garden, well isn't that a bright idea? I remember standing next to the corn stalk's, I must of only been 4 1/2 feet tall and they were almost as tall as me so they must not have been that tall yet. I believe we were playing cops and robbers, I even had a toy dispatch radio.
As we were playing, I started getting tired and wanted to rest for a moment, but my younger family member started pulling on me and I decided to grad a hold of the corn. The constant tugging at it eventually caused it to become uprooted, I stood there for a few minutes in shock while holding the ripped up stalk in my hand. I heard my grandpa come outside, he must of heard all the ruckus and woke up from his nap to see what was going on. My family member told me that I was in trouble, our neighbor just stood there for a moment in the garden until my grandpa got there and seen what had happened, I have to say. He wasn't too happy about me pulling up one of his corn stalks that my grandma and him had put so much time and effort in to grow, let's just say that I learned a lesson that day and a lesson that has stayed with me even to this day.
Parents – God – Children – Corn
So, by now I bet you are wondering, "how does this tie into children?" Well, let me explain. It took my grandparents a whole lot of hard work, time and effort in growing that corn. First, the ground had to be tilled and then the seed had to be planted, it had to be covered up with a gardening hoe. Watered, weeded and nurtured for quite a long time to get it as big as it was. Only to be uprooted as if it was all done in vain, for nothing. It couldn't bare any food anymore and there was no way of getting it deeply rooted again as it was once before, it seems as though it was lost forever. In the same way that an uprooted corn stalk can upset a person that values their garden a lot, having a child become uprooted from everything that a parent has taught them and raised them on their whole life can also very easily be upsetting for that parent.
It didn't take them over night to get their child so deeply rooted in such a strong solid foundation, or well at least what they thought was a rock solid foundation. So why is it that many times parent's children can become so easily uprooted almost over night as if they were never rooted at all? Temptation, tugging perhaps. The enemy will come and no matter how deeply rooted parent's may think that their children are mentally, and even spiritually. If they aren't fully committed to the will of God, then they will be easily taken down by the tugs of the enemy and like the man that build his house on sand, they will come crashing down.
In Conclusion:
Really all there is that we can do is pray. It may not seem like a whole lot, but it really is more than we could ever imagine, because it is true that prayer changes things. It is true that with faith and prayer, what once seemed like a terrible tragedy, can be turned around in to something so much greater than we could have ever thought. Continuously nurture your corn, water it, weed it, help it to grow as strong as it can be. Help it to be as deeply rooted as possible, so that no matter how strong the wind is, it won't be able to blow it down. And no matter how rough the enemy comes in tugging, they won't be able to pull it up. It's not going to be an easy task and I for one am not one to give too much expertise on such issues, however. I must say. With God, it most certainly will not be impossible.
So you see my friends. It appears that the title should make some type of sense now, shouldn't it? I know that some may have gotten the wrong impression at first glance, but believe you me. That was not my intentions. My only intentions is to help people see a great message of inspiration each time I share something on here, and while there may be times that I become weary and discouraged with everything. I know that with God ALL things are possible and I keep trusting in him for inspiration and he just keeps right on giving it to me.
I hope you liked today's post and until next time…
SHALOM –