Building A Kingdom
Today so many times Pastors can be easily swept up into this idea of building an earthly kingdom. When in reality, we are supposed to be building a heavenly kingdom, for GOD. A spiritual kingdom, where people's spirits are raised up. Rather then their comfort levels of themselves and the church they are attending, because true peace comes from full truth of the word of God.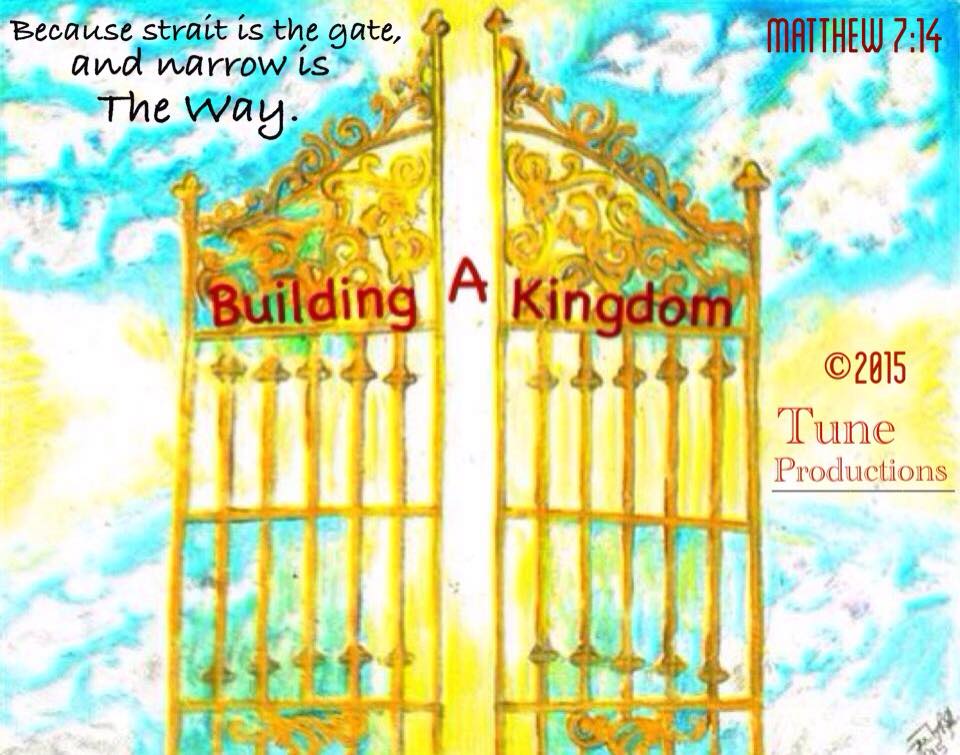 Awhile back I did an audio drama story about how important it is that we stop focusing on structural buildings, money and all of these 'man-made' doctrines. And just start looking on the truth of his word, start preaching and sharing that truth with others so that they will be saved. Instead of trying to get them to give you their tithes so you can go out and buy a new jet or new building expansions, here's a crazy idea. How about telling them to get right with God? How about preparing them for what is to come 'spiritually'? Why not try to help strengthen them for bad times that may come in their walk with Christ? Instead of lying to them and telling them that God won't allow any pain or harm to come upon them just because they've been 'born again.'
We all know that is a false doctrine. We all know that the very minute we walk into will that God has had planned for us since the start of all time, everything will turn completely chaotic. All hell will break loose. Out of nowhere it will seem as if the sky has came crashing down on top of you, unmercifully. Does this mean that God doesn't love you? No. It means that he loves you enough to walk along the roadside WITH you as you endure this pain. He LOVES you, and because he loves you. He doesn't want you to be fooled into feeling or believing as if living for him will be a walk through the roses. As matter of fact. He actually tells you in scripture to count the cost to see if you really want to take the risk of living for him.
It Takes Everything –

I have quoted this line from the Rev. Billy Graham many times. Because it's true. While salvation most definitely free, we also have to take into consideration. That discipleship will cost us EVERYTHING. How can this be? Look at all the disciples in the bible that walked with Jesus, look at where they all ended up. Dead. In some way shape or form, they were brutally crucified for walking the faith of our Lord and Savior. They were martyred for simply preaching and teaching in 'The NAME" of Jesus Christ. And we see the same thing in today's time happening all around us. Everywhere you look, people are losing their lives for claiming to be in Christ, every minute you turn around. People are dying, while building the kingdom of God.
They aren't living in mansions bigger than a super mall while doing this. They aren't preaching fluff and puff, they aren't getting all the riches of the world. They might not even have much money at all. Like you and like me, (the average Christian) they are but travelers through this world of woe. Strangers you could say. Knowing that by grace we are saved and by faith we can endure all things with God whom are all things possible. We know that the road to building a kingdom isn't as grand as many TV Preachers make it out to be today, but we also know that there is a great reward for us in heaven. Aha! There is is! There must be some kind of prize for having to endure such a hard life on this earth, right?
In Conclusion:
Yes! And what is it? Is it cars? Money? Million dollar mansions? The best paying job that there is? Fame? Popularity? How about a lot of friends? No. So what could it possible be? Oh wait! I KNOW! How about we ask Jesus what our prize is? OK, I'll ask him.
Scripture Verse:
Rejoice, and be exceeding glad: for great is your reward in heaven: for so persecuted they the prophets which were before you.
 – Matthew 5:12 KJV
There we are! Greater is our reward where? Did Jesus say, Earth? NO. He said, HEAVEN! So does this mean that we cannot have an ounce of peace on this earth? Absolutely not. What this means is, our main goal in building a kingdom should not be receiving a whole lot of money, or having all the possessions of the world. Fame, popularity, no. Our goal should be to see people saved, to see people come to the alter and become truly reborn. Baptized and filled with the Holy Ghost, bursting with his joy. Exceeding in his holiness.
That, is our goal. For more information about my audio drama, please. CLICK HERE
Thank you for reading today's post, I hope that it has blessed you in some way and until next time.
SHALOM –