Quite the controversy, right? Almost as if we might be asking ourselves: "To change or NOT to change?" That is the question. Well, in reality change can be a little of both.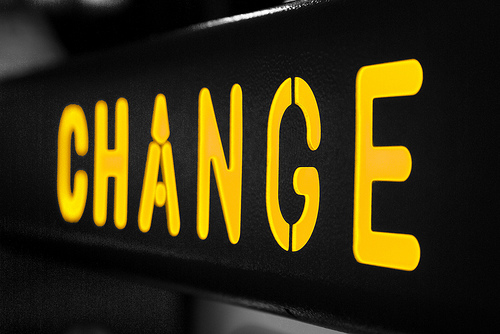 For most of us, change can bring inspiration, happiness, joy, comfort, peace, excitement, adventure and much, much more! Or it can bring us heartbreak, pain, discomfort, sadness, anger, confusion, etc.
Then there are the times that 'change' can bring us a little of both at the same time. When we close a chapter of a book there is always another chapter, right? Until the end of the book – then what happens? If you're one that really loves to read, you'll most likely pick up another book – just like that. So many times in life we face changes, big changes, small changes, many changes and few changes.
Change is a big part of our life. A big part. Yet we just continue to adapt to that and 'go with the flow'. For some of us it's easy to deal with this because we know change is just most of the time God's way of saying…
"I know what I'm doing, trust me, I will take care of everything. You just wait and see."
For others – they struggle with their change whatever it may be.
Change…
Sure is a lot of that in this blog post huh? I've been thinking the past few days and wondering why it is that we constantly freak out so many times when we are faced with sudden changes.
I, on the other hand, am used to changes of all kinds – little bumps in the road or huge dips in the valley whatever they may be. Good, bad. However they may come, we must just continue to trust in God and realize that though change for us at the time can feel bad it is most always good.
"The only thing that never changes is CHANGE itself." – Matthew Tune
I have quoted that before in the past but that was a long time ago. Who remembers that, right? Though this does have some very significant meaning to it, obviously. I mean it's an undeniable fact! With each passing day things are constantly changing! So fast that we can't even keep up, what with all the new tech gadgets, breaking news. Storms, tragedies, triumphs, earthquakes loss of lives all across the world and more. It appears that change is happening rapidly, daily.
We never know what is gonna happen. It's just like good ole' Forrest Gump  said: Life IS like a box of chocolates and we never know what we're gonna get! One day could be joys and happiness and the next day the sky could come crashing down on your head and the world could be very well be at its end. Nevertheless whatever the change may be, good or bad. We must continue to keep on moving forward and trusting in God that he will bring us through the good times and bad.
Because let's be realistic. In our good times, we do face 'some' bad. But because the good is so overwhelming we let it go and are thankful for the good instead. Because the good is incredibly 'great!' But when things are going bad, that's all we focus on. Even when God gives us something good we don't recognize it nearly as much maybe not at all because the 'bad' is so overwhelming. No matter what though, good or bad. We gotta look at life and say: "Thank you" because we're still here.
Always remember people: your end isn't your END; it's just the beginning of something great. I strongly believe that and I suppose you should too. It's not a fantasy world, it may not be reality entirely but it's something greater than both of them. It's the power of God and that – that my friends, is very real.
God Bless Y'all!
Sincerely,