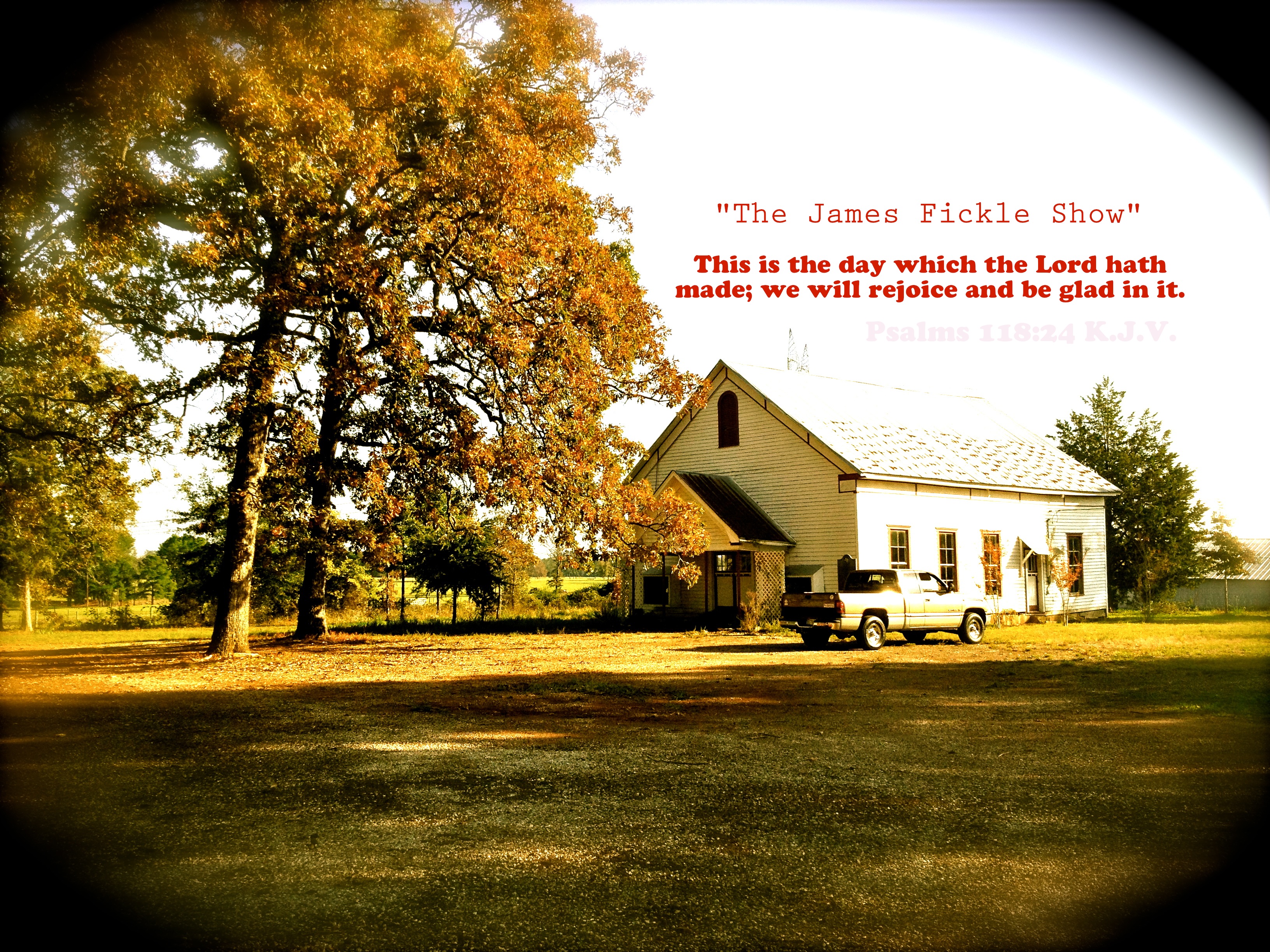 Today is the day that Lord hath made! This day is good because Jesus is in it! You have heard me say this scripture many times throughout my blog posts, youtube videos, and "The James Fickle Show" – he is a strong believer in this bible verse as well.
I would like to talk with you today about why I posted that blog post the way I did on Friday – the one I did with the audio of me in a sense preaching. Well one of the reasons is because I'm sure you have all been in withdrawals from hearing a weekly broadcast of James Fickle so I thought:
"What better way to let them have a little bit of that experience then giving them the next best thing? ME! I am the one the one that created James Fickle in the first place."
Though James Fickle is me – I am not him. People need to understand  that yes, James Fickle is in me. I'm sure while listening to that message posted on Friday you could hear him come out of me in certain parts. That's always been in me, but like Tyler Perry and his 'Persona' Madea; that is what Fickle is like to me- my  persona.
Now you can go on over to my own youtube account and see that I am in a sense my own motivational-speaker/minister and  a whole lot more than that as well. No matter where it is that I am be I'm constantly trying to encourage and uplift those who are broken down and hurting. You have heard me speak of giving H.O.P.E. that is what I try to do often, because if we are letting our light shine we are, Sharing, Hope, In, Everyone.
"If there is a chance for you to S.H.I.N.E. no matter where you are then let loose and shine like you've never shined before. Your life just might depend on it"- James Fickle
Often you will hear me talking about how one of the biggest reasons this world is so dark is because the majority of God's people are hiding under bushels not letting their light shine like they are supposed to. Either because they are lazy or because they are afraid.
But the scripture says:
"Fear thou not; for I am with thee: be not dismayed; for I am thy God: I will strengthen thee; yea, I will help thee; yea, I will uphold thee with the right hand of my righteousness."- Isaiah 41:10 K.J.V.
Just follow his guidance and don't be afraid, he said that he would strengthen us and help us, so if you aren't letting your light shine because of fear, then STOP! And climb out from under the bush and SHINE! The world needs it; you need it! Now onto my next subject: I'm sure if your a Facebook user you see how these religious pictures are floating around your news feed constantly and…
They look something like this: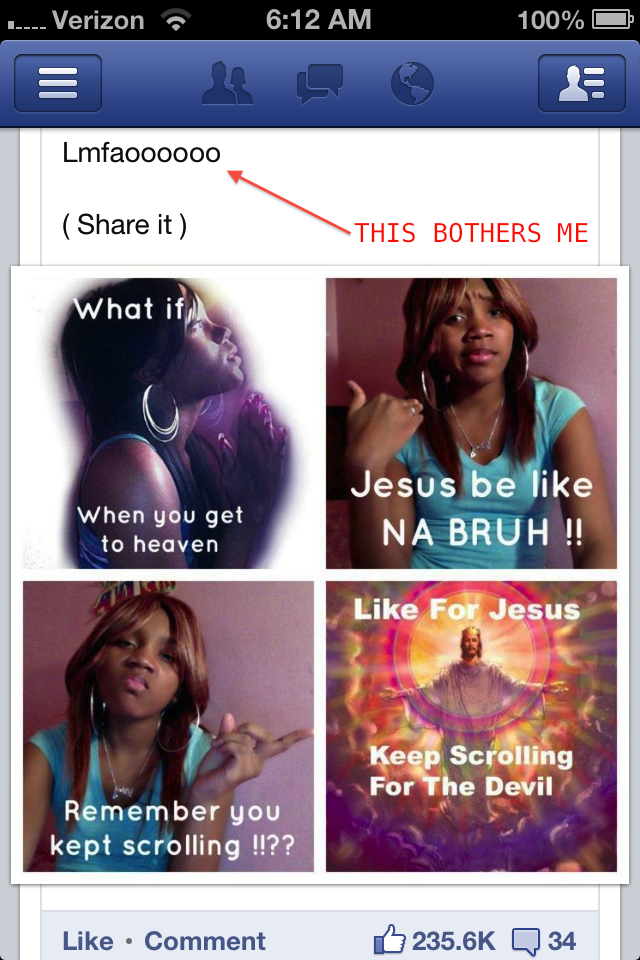 Now nothing to me is wrong with the actual picture, but I was scrolling down my newsfeed one day and seen a few of my friends had liked this picture, well I almost like it and then quickly I caught myself from doing so. Why? Well the thing that irks me the most with this picture is the fact that people out there try to guilt others and try to gain popularity with the most ridiculous things I've ever seen in my life! Why is it that we still like the pictures though? Most the time they are pretty good but there is always some evil out there that pollutes the goodness of something and I will explain to you where the pollution is with this photo and why I stopped myself from liking it.
If you're familiar with the abbreviations then you know what the letters mean my arrow is pointing towards on this picture. Well, that is what irks me my friends. The fact that the picture states what it says and then the person who shared it said that above it contradicts itself so badly, I couldn't help but laugh at it and shake my head. It's absurd!
I'm sure that God will more likely overlook the fact that you kept scrolling then that you help to share that kind of awful language or as for the photo sharer  that he used that language which is something that is just unacceptable – period. Especially in this case! It's insanity and ridiculous! So many people these days go and party all night long through Saturday and come Sunday morning they are holier than thou…
Well you might as well just kept scrolling because living that way is just wrong not just in my eyes but in the eyes of God. You can't live for God on one day of the week and then live for yourself your entire life and expect Jesus to just come back and sweep you off your feet to carry you through the gates of heaven when you've lived a life of sinful acts.
That photo above still bugs me, and it irritates James Fickle even more! I believe that it was one of his grandkids he seen that liked the photo and when he ran across that on his Facebook he went ballistic! Sister Fickle' had to calm him down.
"The James Fickle Show"
That is another thing I wanted to talk to you about is the return of James Fickle which will be April 23d! If you miss the show and are in withdrawals while waiting, until then you can get your very own copy of Season 1!
The James Fickle Show now has 20 messages that I have burned off onto two CD's (Part 1: Messages 1-10 and Part 2: Messages 11-20). That is the COMPLETE FIRST SEASON.
I do accept freewill offerings and donations. Also, for a love offering of $20, I will send you the COMPLETE FIRST SEASON of the James Fickle Show. These two CD's are chock-full of inspiration, motivation, encouragement and more. It's perfect for your loved ones or friends who refuse to go to church but you know they need to hear the word of God and be encouraged in their heart and soul. (Even rebellious teens enjoy James Fickle! He makes them laugh in spite of themselves!) It is also perfect for your fellow Christian who is going through a battle – or several battles – at the moment and need to be inspired and refreshed so they can continue on their walk with God with a lightened load and pep in their step.
Back to the photo:
It's just not right,. Now the majority of us don't even pay attention to anything but the picture when we're see one we just like the picture, but these days you've got to be so careful. You're claiming to be a Christian representing God and when you like a picture similar to the one above with words like that on it. People notice and that's not a very good example to them.
Take precaution.
God bless y'all!
Sincerely,